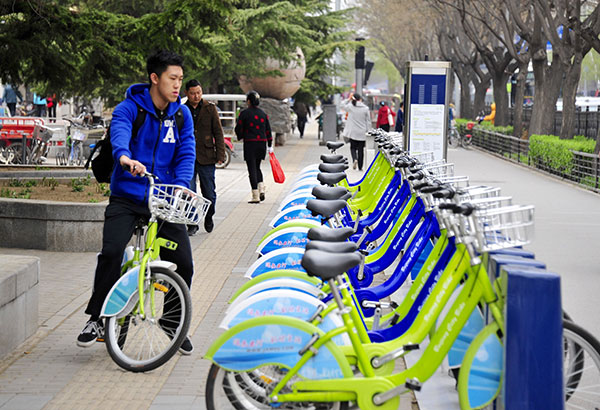 A resident rents a bike in Beijing's Daxing district in April. The city promised to increase the number of bicycles available for rent this year as a way of promoting green transportation.[Photo/Xinhua]
Beijing transit authorities are targeting illegal roadside parking in bicycle lanes, and plan to further increase cycling infrastructure by the end of this year.
The campaign, including measures to set up segregated bicycle lanes, will improve cycling on 248 kilometers of roads in nine areas, including the Second Ring Road, Nanluoguxiang and Shichahai area, the Olympic Center and Zhongguancun West area, the Beijing Commission of Transportation said in a statement on Tuesday.
For auxiliary roads less than nine meters wide, the authority will cancel all the roadside parking and set up bicycle lanes, the authority said. To ensure the rights of bicyclists, the authority will set up segregation facilities and paint sections of pavement dedicated to cycling.
"In recent years, the quickly increasing number of vehicles in the city have severely reduced the space for bicycles on the road and threaten the safety of cyclists," said Zhou Zhengyu, chief of the transportation commission. The proportion of residents who commute by bicycle has decreased from 38 percent in 2000 to 11.9 percent in 2014, he said.
He said more than 40 percent of cars in the capital commuted less than 5 kilometers a day.
"If we can ensure those car owners switch to bicycling, then we can significantly reduce road gridlock," he said.
The city will increase the number of roadside bikes available for rental to 50,000 by the end of this year to further increase cycling.
It aims to increase the number of residents commuting by bicycle to 18 percent by 2020.
Zhou said the authority will increase law enforcement against illegal parking, and will set up video cameras in some areas to enhance supervision.
In the capital's Xicheng district, 539 roadside parking lots have been canceled as part of the campaign, and the authority has added 24 electronic surveillance facilities to monitor illegal parking.
Jian Gemin, a 28-year-old Beijing cyclist who lives in the Beiluoguxiang hutong, said illegal parking is especially severe near his home during the evening when motorists congregate near the area for dining.
"To me, it is mostly a matter of law enforcement. The motorists simply park on the bicycle lanes as they want, and nobody seems to intervene," he said.
xuwei@chinadaily.com.cn