In today's trending, an ancient tree is protected amidst reconstruction, young CEO proposes using 11 luxury cars, horse kicks BMW, and 22 senior couples take wedding photos.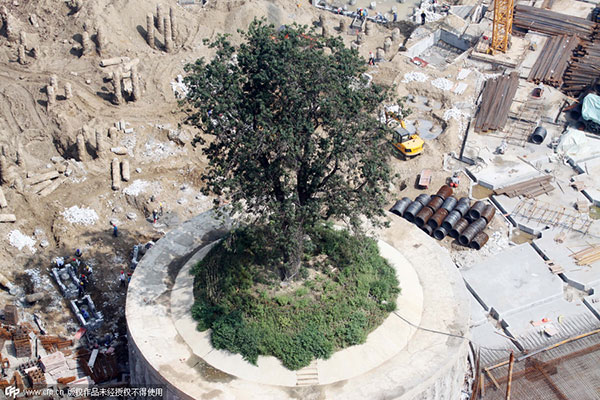 The tree stands alone in the construction site. [Photo/CFP]
Ancient tree protected during city reconstruction
An ancient catalpa bungei tree in Xiangyang, Hubei province, was well protected even as its surroundings went through reconstruction, Chutian Metropolis Daily reported on Thursday.
The tree is 323 years old. To prevent water and soil loss, relevant departments planted grass and placed concrete around the tree. The protective measures cost more than 4,000,000 yuan ($627,200).
Protection of this ancient tree represents the city government's principles of protecting urban ecology, said an official of Xiangyang.
The move has earned the support of the residents.
In our next story, a young CEO proposes marriage with 11 luxury cars.