In today's trending, abandoned child gets hospital birthday party, piglets billed as clones of 'hero pig' turn out to be fake, five-year-old drives on road, and student charged 'pollution fee' for smoking.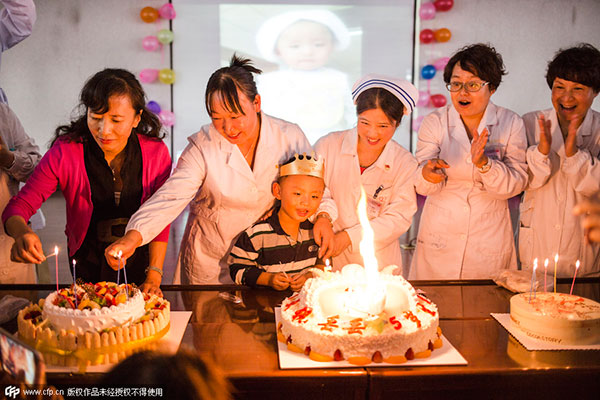 The hospital prepares a big birthday cake for the boy. [Photo/CFP] 
Abandoned boy celebrates birthday in hospital
An abandoned boy in Yunnan province celebrated his 5th birthday earlier this week in the hospital where he has been raised since birth, according to cfp.cn.
The boy was born on Sept 21, 2010. It was an emergency delivery and he was born without a heartbeat. Though the doctors revived him in five minutes, his mother insisted that he had cerebral palsy and refused to take him home.
Ever since, the hospital began to bring up the boy. This year, they decided to throw a birthday party in the maternity ward for him.
The boy's mother also showed up at the party, but she didn't believe that her son has recovered. "The hospital should cure the boy first before asking us to take him home," she said.
In our next story, those wanting to buy clones of famous pig "Zhu Jianqiang" are sure to be disappointed.