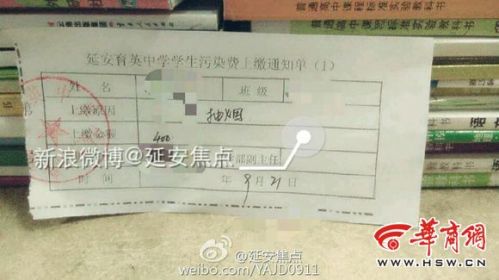 The receipt of the "pollution fee" [Photo/weibo.cn]
Student charged 'pollution fee' for smoking
It's always a headache for schools to ban smoking among students. Recently, a middle school in Yan'an, Northwest China's Shaanxi province, has been trying to fine the smokers by charging them a "pollution fee".
A student at Yuying Middle School was fined 400 yuan (about $62.70) for smoking on campus, according to Xi'an-based China Business View.
A photo of the receipt circulated on Weibo, China's Twitter-like service, revealing that the fine was called a "pollution fee."
According to the school authority, the measure has proved effective, though not backed by any written policy. All the money will be returned to the parents of the students.
That's all for today's trending, do check back tomorrow for more.