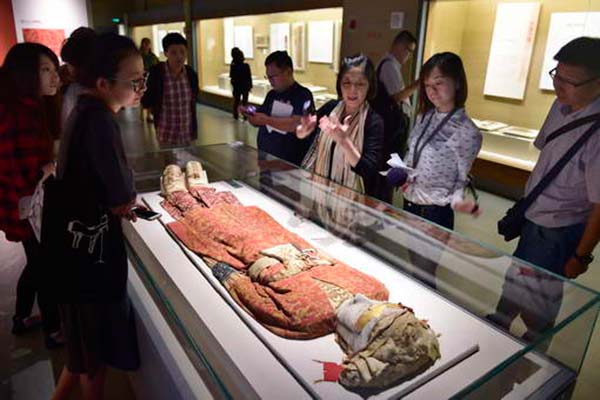 Visitors observe the Yingpan male corpse at the exhibition of Silks from the Silk Road: Origin, Transmission and Exchange. The corpse was unearthed in Xinjiang Uygur autonomous region in 1997. The male is believed to be a merchant living 1,800 year ago along the Silk Road. Provided to China Daily
An exhibition showcasing 140 national cultural relics including rare examples of ancient Chinese silk found along the original Silk Road opened in Hangzhou, Zhejiang province, on Tuesday.
The exhibition, "Silks from the Silk Road: Origin, Transmission and Exchange", is organized by the China National Museum in Hangzhou. It gathered relics from 26 provinces and autonomous regions including Shaanxi, Gansu, Qinghai and Xinjiang Uygur autonomous region. The exhibition will last for one month.
The relics on display were unearthed and date back to the period when the ancient Silk Road was a major channel for trade.
Song Xinchao, deputy director of State Administration of Cultural Heritages, said that this is the first time China has held such an exhibition.
"China has been having several exhibitions under the theme of the Silk Road, but this is the first time that silk, as the major notion, is the main character of an exhibition," he said.
Zhao Feng, curator of the museum, said that relics of the exhibition demonstrate the origin of silk in China, the spreading of silk from the East to the West and the exchange of textile culture among different regions along the Silk Road.
"Every relic has a story behind it," he said.
The piece that attracts most people is a male corpse that was unearthed in Xinjiang. The corpse, believed to belong to a male living 1,800 years ago, wears delicate silk clothes.
"The man, 180-cm tall, died around the age of 25. We guessed that he was a merchant who did business along the Silk Road," said Zhao.
To further promote the research and protection of silk relics of the Silk Road, the museum will also invite related domestic and foreign scientific research institutions to an international seminar from Oct 11 to 14.