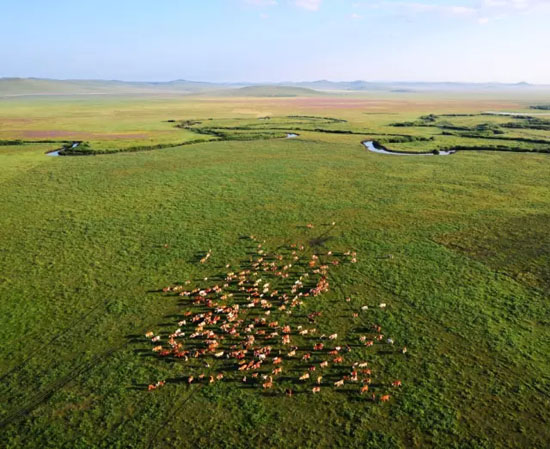 Grassland in Inner Mongolia [Photo provided to chinadaily.com.cn]
With the 44th World Environment Day celebrated on Jun 5, it's a good time to take stock of the Inner Mongolia autonomous region's environmental protection measures and projects in the past dozen years.
According to its development strategy, Inner Mongolia has been working to develop itself into an ecological safety shield in North China, which is a strategic direction for environmental protection and ecological civilization.
China started a project to return grazing land into grasslands from 2002. 37 of the region's banners and counties were included in the project from then on. During 2002 to 2014, an area of 263.8 million mu (17.59 hectares) was returned to grasslands with investment of 4.67 billion yuan ($752.01 million). The monitoring data showed vegetation covered 54.72 percent in the project's areas in 2014, 11.79 percentage points higher than non-project areas.
Meanwhile, the region has been working to improve the monitoring of grasslands ecology. Two reports on grasslands ecology will be released at every May and July from 2009.26 permanent grasslands monitoring stations at the national level were built in 26 banners, all of them in regular operation now.
Following the first phase in 2000, the second phase of the Beijing-Tianjin sandstorm-control project was launched in 2013. Central finance will invest 5 billion yuan from 2013 to 2022. The project includes 31.9 percent of the region's land, 369,000 square kilometers in total. Vegetation coverage has increased 14 to 16 percentage points since the project's earlier stage in 2000, and the sandy areas shrank by 24.7 to 30.7 percent.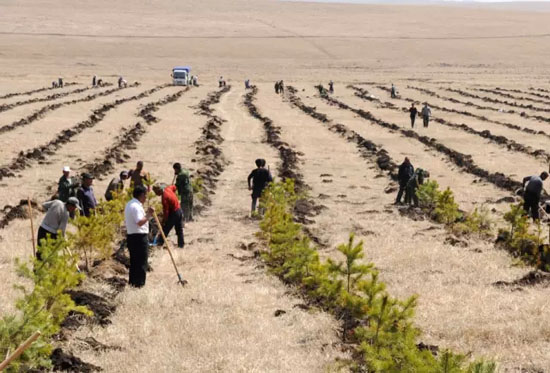 Workers plant trees on the grassland in Inner Mongolia. [Photo provided to chinadaily.com.cn]
As another significant decision for grassland protection, the region receives subsidy and incentive funds of 4.04 billion yuan per year beginning in 2011, thanks to the measures of Central Finance Subsidy and Incentive Funds for Grassland Ecological Protection. This subsidy and incentive policy covered 1.013 billion mu (67.53 million hectares) grasslands and 480,000 herding households.
The following year, the region released an implementation plan on the subsidy and incentive funds for grassland protection, which specialized and implemented all the items regulated in the policy. All the improvable grasslands in the region were covered by the policy in 2014. The subsidy and incentive funds amounted to 16.1 billion yuan in four years, with 1,460,000 herding households benefiting from it.
Thanks to the major projects and policies being carried out, the region's grassland ecology marked evident improvement. The vegetation coverage of the region's grasslands hit 43.6 percent in 2014, increasing 6.52 percentage points comparing in 2010.