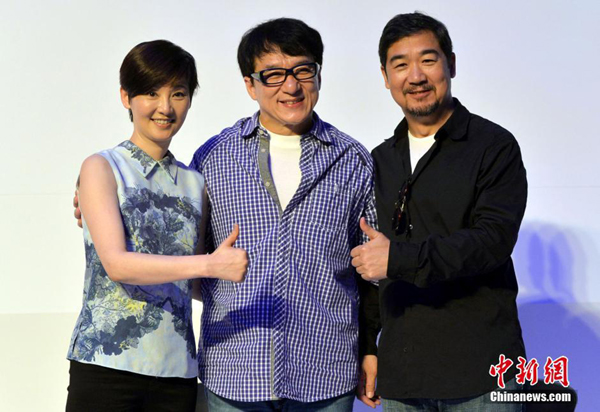 Action star Jackie Chan (center), actress Xu Fan (left) and actor Zhang Guoli attend the launch of the Jackie Chan Film and Television Academy in Wuhan, Hubei province on May 20. [Photo/Chinanews.com]
China's kung fu superstar Jackie Chan has the new title of dean after launching his first school, the Jackie Chan Film and Television Academy, in Wuhan, Hubei, on Wednesday.
At the launching ceremony, Chan said that he has finally completed his "lifelong dream" of establishing his own school and will pass on his years of experience on movie sets to the next generation of actors and filmmakers in China, according to the Wuhan-based newspaper Chutian Metropolis Daily.
The academy was formed under the Wuhan Institute of Design and Sciences and built on the foundation of the institute's media school.
The school offers undergraduate programs in animation, performance and digital media. The newly launched academy will add two majors, anchoring and broadcast editing and directing, according to Yang Weiping, the institute's publicity director.
"What we value is Jackie Chan's fame and experience," Yang said. "He has been in the movie industry for more than 40 years, and his movies have earned more than 20 billion yuan ($3.2 billion) at the box office. No other Chinese actor can compare with him."
Chan proved his charm among young Chinese upon his arrival at the campus, thronged by cheering students who raised their cellphones high to take photos.
"I didn't go to college, so I'm actually intimidated by the role of dean," Chan said on his micro blog.
He showed his wide range of contacts by bringing a star-studded lineup of guest professors, including movie director Feng Xiaogang, actresses Li Bingbing and Xu Fan and actor Zhang Guoli.
It is not something new for entertainment stars to take on roles of dean or guest professor at college. But whether or not a celebrity will take a teaching job seriously is a common question.
The discussion heated up again recently after TV host and former teacher at Beijing Foreign Studies University He Jiong resigned from the university after allegations of freeloading. But Chan promised to work hard.
"I will conscientiously perform my duty as the dean. I won't do harm to the students," Chan said at the launching ceremony, according to the newspaper.
Chan will provide students with internships and job opportunities and give lessons through lectures and instructions on movie sets, Yang said.
Contact the writers at xujingxi@chinadaily.com.cn