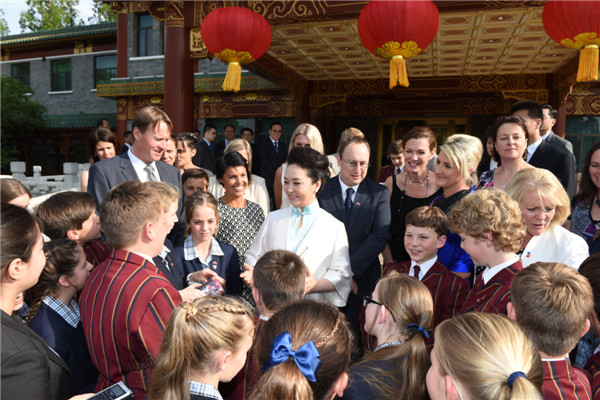 First lady Peng Liyuan talks to visiting Tasmanian pupils from Scotch Oakburn College at the Diaoyutai State Guesthouse in Beijing, May 21, 2015. Peng encouraged them to study Chinese culture and become young ambassadors for China-Australia exchanges. [Photo/Xinhua] 
In the digital age, letter writing may not be as common as it once was, but its ability to enrich lives and launch adventures was on display on Thursday when Tasmanian teenagers presented Chinese calligraphy and artwork to first lady Peng Liyuan.
The story began last May when 16 pupils from Scotch Oakburn College in Tasmania wrote to President Xi Jinping and his wife Peng, inviting the couple to the island, an offer realized in November during Xi's Australian visit.
The following 12 months have seen the 6th graders gain more fluency in Mandarin as well as develop a deeper interest in Chinese culture. Both were on display in Beijing on Thursday.