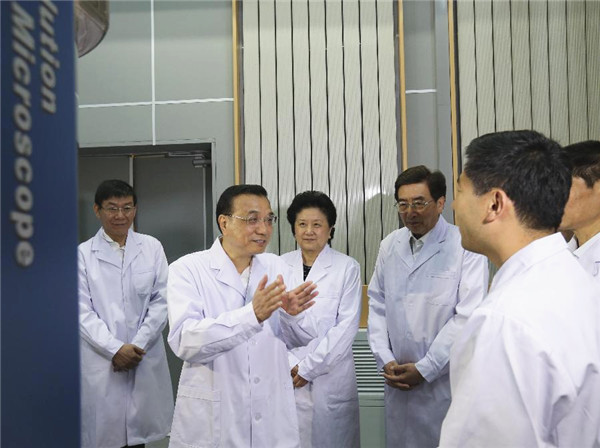 Premier Li Keqiang (2nd L) visits the Laboratory of Advanced Materials & Electron Microscopy at the Institute of Physics of Chinese Academy of Sciences (CAS) in Beijing, May 7, 2015. [Photo/Xinhua]
Inno Way, in Zhongguancun Haidian Science Park, was home to more than 12,000 technological companies by the end of 2013, with the aim of becoming a globally influential hub of innovation.
The street also provides entrepreneurs with free training, where budding businesspeople can analyze case-by-case business decisions and prevent mistakes in the future.
"Entrepreneurship is not a privilege of a small number of people but the choice of many," the premier said. "And ethics is an important part of the innovative spirit."
Wang Yuanzhi, former chief of the small and medium-sized enterprises department at the National Development and Reform Commission, said Li's visit was in line with his consistent support for small businesses and encouraging innovation among the public. And it signals the government will support startup businesses and help them develop in the right way, with a high level of ethics and stable sources of funding.