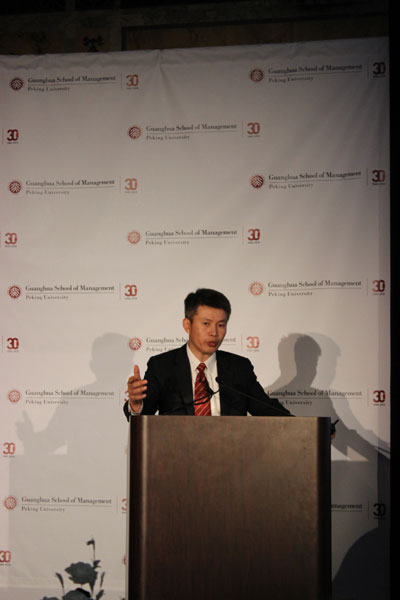 Professor Cai Hongbin, dean of the Guanghua School of Management at Peking University, speaks at the China-US Business Forum in New York. Photo provided to China Daily
China needs to reconstruct its cultural foundations in order to develop into the innovation economy it is striving to become, according to a distinguished Chinese professor speaking at the China-US Business Forum on Finance and Innovation held at the New York Public Library on Wednesday.
"In recent years, China has been pushing forward on a campaign to promote innovation which includes entrepreneurship and innovation by the masses, 'Internet+' industrial policies and China manufacturing 2025," said Dean Cai Hongbin of the Guanghua School of Management at Peking University, just as Premier Li Keqiang described in the government work report during this year's two sessions, he added.
"In the end, all these policies aim to build the Chinese economy into an innovative economy," said Cai. "It is not acceptable any more for the whole Chinese society to copy; they want to change it. That's the idea behind promoting innovation policies."
To usher in the coming era of innovation and elevate overall innovation capacity, not only should further investment in education and R&D be made - and the efficiency of such investment beincreased, guaranteed and improved - but it is also essential to build a healthy and active ecosystem of innovation, according to Cai.
"We also need to improve factors that restrain innovation and reconstruct the cultural foundations of an innovation economy," Cai added.
Research has found that the more attention a firm pays to wealth and hierarchical bureaucracy, the less communicative and innovative they are, he said.
"Innovation comes from the exchange of ideas, and idea exchanges rely on people having different status and positions," said Cai. "Therefore, to promote innovation, innovative organizations always try to maximize the chances that people exchange ideas, such as Google's open space design and Yahoo's ban onwork-at-home policy."
The cultural element of this, according to Cai, is that when people communicate with each other, whatever their positions in the social hierarchy are, their communication and idea exchange are effective only if everyone is viewed as equal to each other regardless of their social status.
However, despite the many good values Confucianism has imparted on traditional Chinese culture, its over-emphasis on social hierarchy has posed serious barriers to building an innovative economy, he said.
"Too strong on building social connections while weak on idea exchanges," Cai put it. "Everyone who has been to China and gone for dinners and parties knows that we (Chinese) always have all the drinking, but without the opportunity for people to talk about their ideas."
Though challenging, it is necessary to reconstruct this cultural foundation to break up the hierarchy approach, encourage the challenging of authority and promote the exchange of ideas to better help achieve the goal of an innovation economy in China, said Cai.
xiaolixin@chinadaily.com.cn