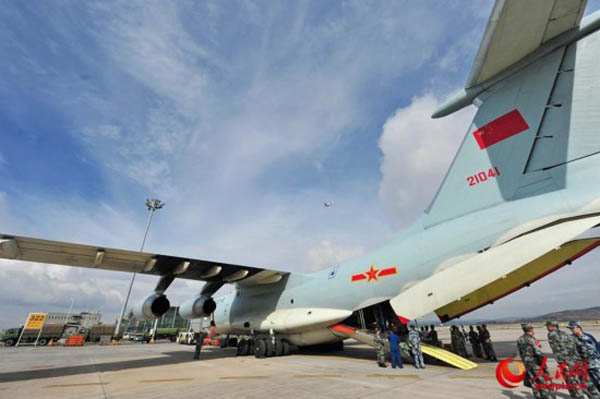 A Chinese military's IL-76 transportation plane at an airport on April 27, 2015. [Photo/People.cn] 
The Chinese air force dispatched 4 IL-76 transportation planes to help with rescue work in quake-stricken Nepal, a military spokesman said Monday.
Two of the aircraft were stationed at Chengdu Shuangliu International Airport in Sichuan province and another was at Kunming Changshui International Airport, according to People.cn.

Earlier on Monday, a 55-strong team affiliated with the People's Liberation Army (PLA) left for Nepal to help with rescue operations. Another team of 45 soldiers will leave for Nepal on Tuesday.
The 100 soldiers are taking with them four sniffer dogs, five recovery vehicles and rescue equipment, including life detectors and entry tools.
They are experienced in earthquake rescue missions and participated in operations for the deadly quakes in Wenchuan and Lushan in Sichuan Province and Ludian in Yunnan Province in recent years.
The team will conduct rescue operations and provide medical aid and psychological counseling after arriving in Kathmandu, Nepal's capital.
Previously, a 62-member Chinese search and rescue team, along with six dogs, arrived in Nepal's capital of Kathmandu on Sunday to become the first international heavy urban search and rescue team in the Himalayan country, according to the China Earthquake Administration.
Meanwhile, about 4,000 Chinese tourists remain stranded in quake-hit Nepal as airlines race to evacuate them following Saturday's earthquake, according to the China National Tourism Administration.
As of 4 pm on Sunday, Chinese airlines had evacuated more than 1,000 nationals from Nepal, where an 8.1-magnitude earthquake has killed at least 3,218 people, including four Chinese.
On Sunday, the Chinese airlines successfully carried out 14 round trips, according to the Civil Aviation Administration of China (CAAC). Nine of them picked up stranded tourists, and five of them are loaded with relief materials.
Currently, Chinese carriers can bring about 1,200 people home every day.
The Foreign Ministry denied the online rumors that "people with Chinese passports can take flights to China for free", suggesting that Chinese citizens buy tickets from China Eastern, Air China, Sichuan Airlines and Southern China Airlines, which operate China-Nepal flights.
According to Global Times, China's flight is the first foreign flight that arrived in Nepal to evacuate its citizens, landing in Kathmandu just hours after the quake, and China sent the first international crisis rescue squad to Nepal to assist in rescue efforts.