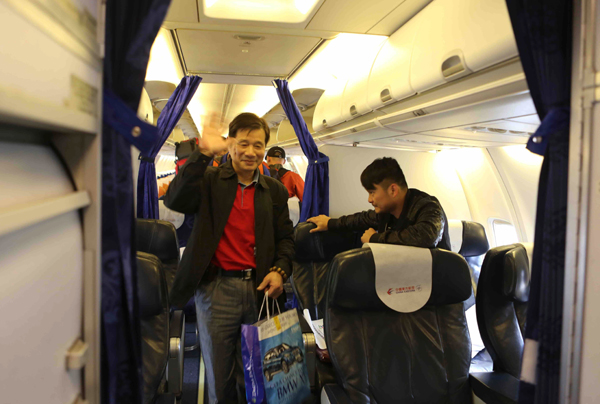 Chinese passengers arrive in Kunming, capital of Southwest China's Yunnan province, April 26, 2015. A total of 230 passengers stranded in the quake-hit Nepal returned home by China Eastern Airlines flights on Sunday. [Photo/Xinhua]
BEIJING - China's major airlines dismissed rumors that they raised ticket prices for evacuation flights from quake-hit Nepal on Monday.
Air China, China Eastern and China Southern told Xinhua it is impossible for them to hike ticket prices, which are under tight control of the National Development and Reform Commission.
However, Air China said it can not be ruled out that some air ticket agents raised prices without approval.
Rumors went viral online that Chinese visitors stranded in Nepal had to pay extra money for flight home.
About 4,000 Chinese tourists now remain in Nepal, where an 8.1-magnitude earthquake has killed at least 3,218 people, including four Chinese.
Currently, Chinese carriers have the capacity to bring around 1,200 people home every day.
The Civil Aviation Administration of China asked airlines to prepare more flights and prioritize the transport of passengers and humanitarian aid.