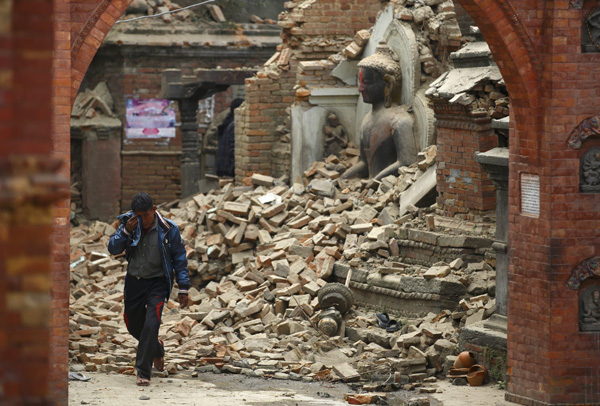 A man cries as he walks on the street while passing through a damaged statue of Lord Buddha a day after an earthquake in Bhaktapur, Nepal April 26, 2015. [Photo/Agencies]
UNITED NATIONS - UN officials called on Sunday for joint effort in the search and rescue operations in the wake of a powerful earthquake that shook Nepal on Saturday and killed thousands.
"The actions of the government of Nepal and local communities themselves have already saved many lives," said Valerie Amos, the UN under-secretary-general for humanitarian affairs, in a statement issued here. Amos is also the UN emergency relief coordinator.
"Teams from India, Pakistan, China and Israel have started work, and more are on their way from the US, the UK, Singapore, the United Arab Emirates, the European Union and elsewhere," she said.
The latest number of the killed is 3,218, Nepalese authorities said Monday morning.
A staggering 7.9-magnitude quake, the worst to hit the nation in over 80 years, shook central, western, mid-western and far-western parts of Nepal at midday on Saturday, leaving tens and hundreds of people injured and causing damage to properties worth billions of US dollars.
In the capital Kathmandu, thousands of people had spent the night on pavements, in parks and open fields in chilly temperatures, too afraid to return to their ramshackle homes.
Most of historic buildings in the worst-hit Kathmandu Valley were destroyed in the catastrophe while a 6.7-magnitude aftershock jolted Nepal on Sunday.
Homes and buildings have collapsed and entire areas have been flattened. People need food, water, emergency shelter and healthcare, she noted. "Many families have slept in the open in makeshift tents for two nights."
"Our thoughts are with the people of Nepal as they deal with the loss of life and devastation caused by Saturday's earthquake and aftershocks," Amos said.
The United Nations agencies in Nepal, with their humanitarian partners, are supporting the Nepalese government and other partners, she said.
A team from the World Food Programme is on the ground providing food items and trucks for distribution, the UN Children's Fund (UNICEF) is sending tents and healthcare supplies, and the World Health Organization has distributed medical supplies to cover the immediate needs of 40,000 people, Amos said.
A United Nations Disaster Assessment and Coordination team is on the ground helping to coordinate response efforts.