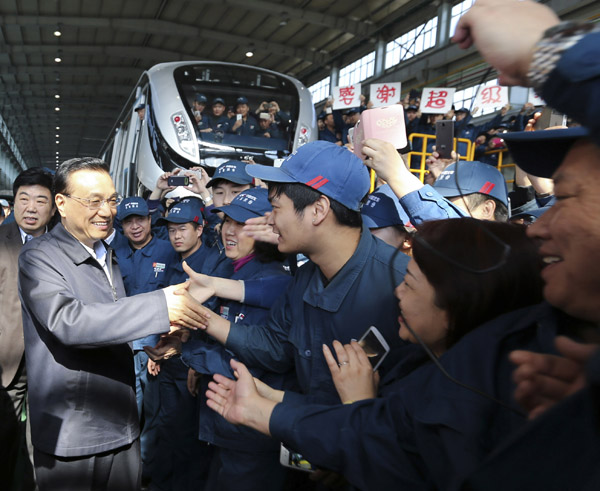 Premier Li Keqiang receives a warm welcome from workers at the CNR Changchun Railway Vehicles Co in Jilin province on Friday. The workers held aloft signs saying "Thank you, Mr Super Salesman", praising Li for helping rail equipment exports. [LIU ZHEN / FOR CHINA DAILY]
Major projects needed to bring incentives to embattled region, premier says
Major projects — including manufacturing and exporting rail equipment — and support industries remain the key way to help the slowing economy in northeastern China, Premier Li Keqiang said on Friday.
The area has felt chill winds from falling commodity prices, shrinking demand and economic restructuring.
"To maintain smooth economic development in Northeast China, the main issue is to launch major infrastructure projects, which will give big incentives to the local economy," Li said.
"At the same time, the government has to increase investment in transportation, water conservation and upgrading urban sewage systems," he told an economic seminar in Jilin province.
The premier spoke after visiting CNR Changchun Railway Vehicles Co, one of China's largest rail equipment manufacturing bases, where he received a rousing welcome from workers for his sales efforts.
They raised cardboard signs reading "Thank you, Mr Super Salesman".
At the seminar, Li said, "Large projects must be approved and started soon in a bid to encourage investment, and the government has to select a new group of projects to provide a further boost."
He added that cities in the region will accelerate the upgrading of urban shanty areas.
The seminar, attended by governors from the three northeastern provinces of Heilongjiang, Jilin and Liao-ning, came ahead of the release of first-quarter economic data on Wednesday.
Analysts expect the economy to have grown by 7 percent at best, while many have forecast lower growth.
Rail freight volume fell to a six-year low in the first two months, 9 percent down from the same period last year, indicating a strong contraction in the real economy.
Li used rail freight volume as one of three major indicators to gauge economic development when he was governor of Liaoning.
While saying that economic fluctuation remains "in a reasonable range of development", Li said there is mounting pressure on the economy, with the three northeastern provinces feeling the most pressure.
He warned the governors that a continued fall in economic growth could lead to social instability.
He also singled out dereliction of duty, or the reluctance of officials to perform their work amid the nation's anti-corruption campaign, as a major problem.
"Intentional neglect of duty has added up to an ill-structured economy. ... I felt upset when I saw industrial equipment standing idle along the roads when I traveled through Changchun.
"Why was it there? Was it waiting for the next project? Land has been wasted without being developed, and officials have to be held accountable," Li said.
He blamed local officials for not taking the initiative to find new projects and for wasting the region's natural advantages in land and energy resources.
Zhao Zhenhua, an economist at the Party School of the Central Committee of the Communist Party of China, said the premier has used unusually harsh words at the seminar against local officials, indicating his resolve to boost the region.
Zhao said he expects a first-quarter slowdown to prompt the central bank to further cut the reserve requirement ratio two or three times to inject liquidity into the market in coming months.