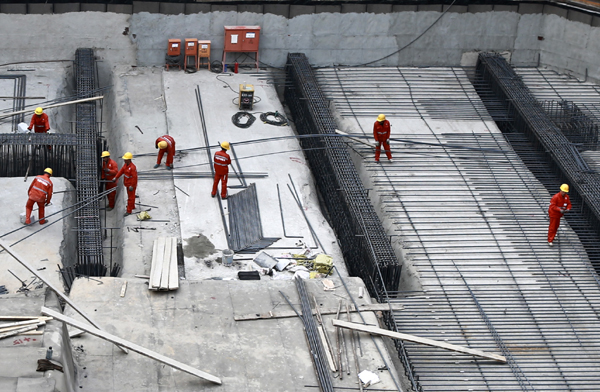 A construction team works on the second phase of Beijing's Changping Line on Thursday. The line is expected to open at the end of the year. FENG YONGBIN/CHINA DAILY
Move comes after construction costs soar in past few years
Beijing plans to attract more nongovernment funds to fuel the rapid expansion of the subway network, the company responsible for providing finance and planning new projects has revealed.
Construction costs have almost doubled in the past six years, the Beijing Infrastructure Investment Co said.
The technical and economic performance index, which reflects construction costs, increased to 1 billion yuan ($161 million) per kilometer in 2014 for subway lines in the downtown area, according to figures released by the company. The corresponding figure in 2007 was 571 million yuan.
The municipal government has annual allocations to fund subway construction projects, and these reached 15.5 billion yuan in 2014.
Most of the money is provided by the company, which has invested more than 251.3 billion yuan in the network in recent years-enough to build 110 Bird's Nest stadiums or 246 Water Cube aquatics centers.
Now the capital's municipal government has released a guideline designed to attract more funds from private sources to finance large public projects, including the subway.
Yang Xuhui, an official at the Beijing Municipal Commission of Development and Reform, the city's top economic planner, said companies can invest either alone or as a part of a consortium.
"More than one company has shown an interest," he added.