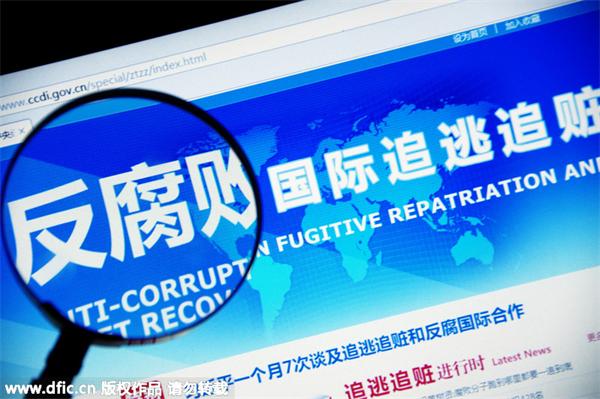 The Central Commission for Discipline Inspection (CCDI) of the Communist Party of China (CPC) opens a website to allow people to tip off the CCDI to corruption and other disciplinary violations. [Photo/IC]
China's local provinces and regions are coordinating their efforts to nab corrupt officials who have fled overseas, after receiving specialized training from the CPC Central Commission for Discipline Inspection, authorities said on Thursday.
According to the anti-graft watchdog in Shanxi province, regulations have been issued to clarify tasks to be done by judicial authorities, and detailed action plans have been laid for the capture of fugitives and the confiscation of stolen assets.
"We will deploy special personnel to follow up on tips. Once we discover any signs of criminal behavior, we will immediately launch an investigation, and violators will be held criminally accountable," said Huang Xiaowei, secretary of the Shanxi Provincial Commission for Discipline Inspection.
In Fujian and Qinghai provinces, the anti-graft authorities will establish an information briefing mechanism to regularly report their progress in the hunt in confiscating such things as bank deposits, real estate and business assets.
Overseas assets are often accumulated through money laundering schemes and underground banks.
In recent years, a large number of corrupt officials have escaped abroad, sometimes to the United States, Canada and Australia. The lack of extradition treaties with those countries, as well as differences in systems of justice, have created obstacles to recovery for China.
In March, 126 law enforcement officers from local provinces and regions participated in a four-day-long special training held by the CCDI to address some of the major issues.
During the training, senior officials from the supreme judicial authorities, along with university law professors, presented lectures about differences in laws between China and other countries, and addressed technical issues involving financial transfers, the CCDI said.
Provinces and autonomous regions recently set up a shared database with central anti-graft authorities. When clues are discovered, they are added to the database within 24 hours.
"Records can be updated in a timely manner, and supplementary evidence can be provided to the CCDI to assist in its manhunts," a statement provided by the central watchdog said.
On April 1, judicial authorities launched a special action, code-named "Skynet", to hunt for corrupt officials at large overseas and to confiscate stolen assets. The action is to continue through December, the CCDI said.
To date, three fugitives have been brought back from Laos and Greece to stand trial, according to the Ministry of Public Security.
On Thursday, Chinese police officers succeeded in extraditing a fugitive suspected of selling fraudulent investments to people in Greece. The scheme raised 44 million yuan ($7.1 million).
That case sets an example for enhanced judicial cooperation with European countries in moving to extradite other fugitives, the ministry said.
Huang Huijun, a senior official at the Anti-Corruption and Bribery Bureau of the Hunan Provincial People's Procuratorate, said that China's provinces and regions should increase their efforts to dig up clues, which will "create better conditions for us to persuade the fugitives to turn themselves in, or to ask our foreign counterparts to start criminal investigations".