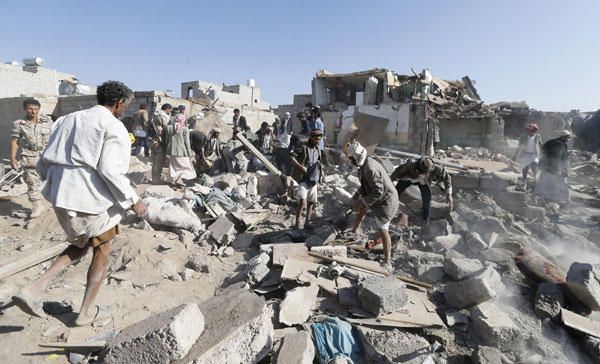 People search for survivors under the rubble of houses destroyed by an air strike near Sanaa Airport March 26, 2015.[Photo/Agencies]
Foreign Minister Wang Yi confirmed on Sunday that China has begun preparations for evacuating more than 500 Chinese nationals from war-torn Yemen.
Wang made the comment while attending the annual Boao Forum for Asia conference in Hainan province. He said all Chinese nationals will soon be safely on their way home.
More than 200 staff members from the United Nations, foreign embassies and other organizations were evacuated by air after a third night of heavy airstrikes on Saturday. Pakistan said it was preparing to evacuate its citizens and diplomatic staff, according to AFP.
As early as February, both the United States and the United Kingdom had shut down their embassies in Yemen.
Wang said China has already launched a contingency plan to protect Chinese nationals.
According to a notice posted on Friday by the China Shipowners' Association, the Chinese People's Liberation Army navy was to temporarily suspend its escort mission in the Gulf of Aden and Somali waters.
The notice also stated that it is unclear when the mission would be resumed, and it urged shipowners to take precautions against possible pirate attacks.
It was the first time the fleet had suspended escort missions since China sent its first fleet to the Gulf of Aden and Somali waters in December 2008.
Zhang Junshe, a senior researcher at the PLA Naval Military Studies Research Institute, said, "We have to wait for confirmation from the navy and the Ministry of Foreign Affairs to see if the fleet was dispatched to evacuate Chinese nationals in Yemen. One thing for sure is that the suspension will be a temporary one and it won't last long."
Tian Qi, the Chinese ambassador to Yemen, said on Thursday that no Chinese nationals were known to have been killed or injured.
Iranian-backed Houthi rebels in Yemen are battling Saudi-supported government loyalists for control of the country in a conflict that has escalated in recent months. Violence there is leading to fears of a civil war that could lead to a regional conflict.
The latest Chinese naval fleet left China on Dec 2 to conduct escort missions in the Gulf of Aden and Somali waters. The fleet is made up of the missile frigates Linyi and Weifang, and the supply ship Weishanhu, which has two helicopters and more than 700 troops.