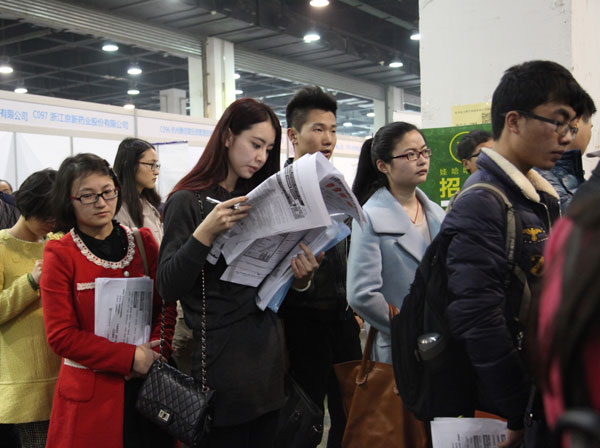 Job seekers hand in their resumes at a job fair in Hangzhou on Tuesday. A newly released report said graduates from domestic colleges are being favored over those who studied overseas. Hu Yuanyong / For China Daily
Graduates from domestic universities are being favored in the job market over those who studied overseas, prompting experts to suggest that returnees should hunt for jobs that fit their advantages.
At a job fair held over the weekend in Beijing, some of the returnees were turned down for employment because enterprises favored domestic college graduates, according to Beijing Evening News.
"They told me that they preferred domestic graduates," a female student who had just returned from a one-year master's program in Britain told Beijing Evening News.
She said that overseas returnees, if they wanted to land a good job in the domestic market before graduation, had to come back in September or October of the previous year.
"But at that time, we were busy with our dissertations and couldn't spare time to hunt for jobs back home, so we lost some good opportunities," the student was quoted as saying, adding that she had been turned down for several job opportunities and felt "marginalized" in the domestic job market.
Gu Yeli, a member of the Chinese People's Political Consultative Conference National Committee, said the difficulty for overseas returnees in landing domestic jobs can reflect their possible disconnection with domestic conditions.
"While more and more Chinese students choose to study overseas, some fail to keep up with the developments at home," said Gu, who is also the vice-president of Guangdong University of Foreign Studies.
Yang Xueyi, former Party chief of Beijing Foreign Studies University, said that the quality of returnees varies, as an increasing number of Chinese students head overseas to study.
Almost 460,000 Chinese students went to study abroad in 2014, while the number of those who returned in the year was around 365,000, an increase of 3.2 percent from the previous year, figures from the Ministry of Education showed.
Cheng Jiacai, deputy director of the Chinese Service Center for Scholarly Exchange under the ministry, said overseas returnees do face some pressure in landing jobs due to their growing numbers in recent years, but the pressure is still much smaller compared with that facing millions of their domestic peers.
"Whether to recruit a domestic graduate or an overseas returnee rests on the needs of enterprises, and whether a student can land a good job or not depends on the student's ability," Cheng said.
Contact the writer at zhaoxin-ying@chinadaily.com.cn