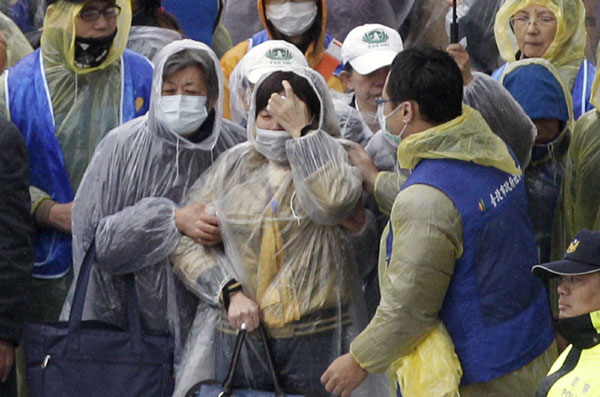 Family members of passengers who died in the TransAsia Airways Flight GE235 plane crash react when emergency personnel retrieve two bodies from the water in New Taipei City Feb 6, 2015.[Photo/Agencies]
TAIPEI - TransAsia Airways representatives met Sunday with relatives of the victims of last week's plane crash in Taiwan to discuss compensation after it began distributing money to families of the deceased for funeral costs.
At the river crash site, divers tried to find the bodies of three people still missing by using metal detectors to locate their watches or seat belts.
At least 40 people died after the propeller-jet crashed into the muddy Keelung River minutes after takeoff Wednesday from Taipei's airport. Fifteen of the 58 people aboard the plane were rescued.
Thirty-one tourists from the Chinese mainland who had just completed visits to Taiwan were on board the plane bound for Kinmen when the tragedy happened and at least 26 of them have died in the crash.
A public memorial ceremony will be held on Feb 10 in Taipei to mourn victims of the plane crash.
A TransAsia spokeswoman, Fang Chia-wen, said a second meeting would be held on Wednesday to discuss compensation matters further. She said the airline had already begun distributing 1.2 million Taiwan dollars ($38,000) per victim to families for funeral expenses.