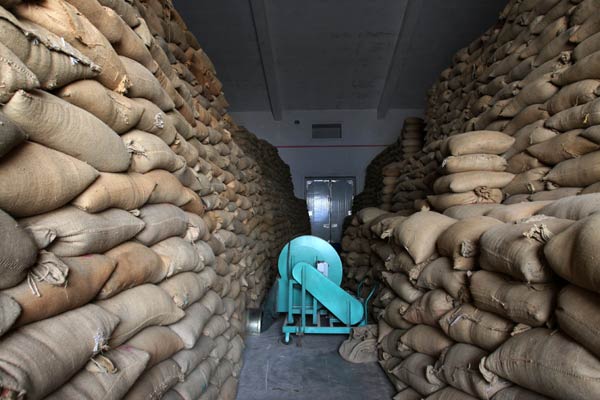 Organic sorghum is stored for a year in this Moutai facility. Photo by Wang Zhuangfei for chinadaily.com.cn
A wine intertwined with China's future
Wandering around the town of Maotai, it is abundantly clear that the fortunes of this town are intimately tied up with the fortunes of its chief export. Whether it is the form of Han dynasty wine cups on the grills of local houses, or the ever-present smell of sweet liquor lingering in the air, wine runs in the blood of the locals here, some of whom have worked for the company for three or more generations.
"In 1957 Chairman Mao said that Maotai should produce 10,000 tonnes of wine a year," says company historian Hu Jing Shi. "Now, the company has surpassed that to produce 40,000 tonnes a year." He, too, is optimistic that the state-owned enterprise will only increase its production in coming years as it implements its ambitious expansion plans.
"Moutai's future is China's future," he says. "If China is thriving, Moutai is thriving."