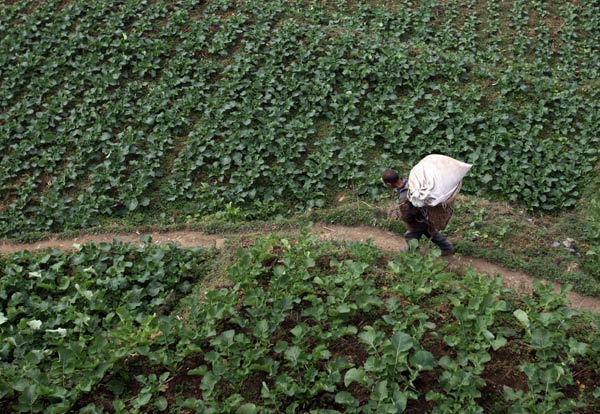 One of the farms in Maotai where sorghum is planted during its season. Photo by Wang Zhuangfei for chinadaily.com.cn
Sorghum that bought education for his children
Good baijiu begins with organic sorghum, which is grown in the verdant hills and valleys of Guizhou province. In an effort to increase the production of Moutai Wine to meet the rising demand, Kweichow Moutai Company introduced a new policy in 2001 to provide sorghum seeds and technical support free to farmers who would switch from other crops to sorghum, as well as fertilizer at half the market price and a certain amount of compensation if the crop failed.
Tong Fu, 55, and his wife Chen De Rong, 45, decided to take advantage of this policy and switched from farming rice to farming sorghum in 2006.
"It took three years to convert our land from farming rice to farming sorghum, and they were tough years because we were not getting income from the sorghum. We grew red sweet potatoes on the land to help make ends meet," says Tong Fu.
But the risk really paid off, and the sorghum crop changed the fortunes of his whole family, enabling them to send all three of their children off to university – no mean feat for a rural farming family.
"I decided to switch because I had faith in sorghum. It cost less in labor costs and had higher profit margins," says Tong Fu. His son, who recently graduated, decided to major in food science in order to return to work for Kweichow Moutai Company, out of gratitude to the company for lifting them out of poverty.
"My two daughters are studying medicine and finance. When I was a child, there were so many mouths to feed and not enough food to go around. Now, life is much better," says Tong Fu. Last year, his sorghum crop earned him 20,000 yuan, well above the 8000 yuan/capita income of farmers in the region.