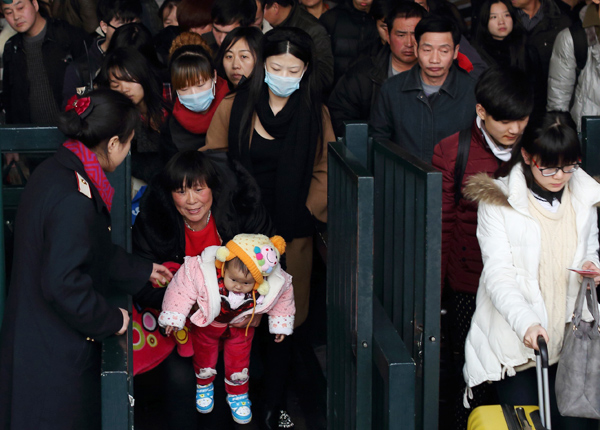 Passengers file through the ticket gates at Beijing Railway Station on Thursday. Millions of people have embarked on their trips home as Spring Festival approaches. WANG JING / CHINA DAILY
Third-party assessments will be made of the performances of transportation departments under the central government during the annual Spring Festival travel peak, or chunyun, according to a senior official.
These institutions will seek public opinion through websites to evaluate the work of government bodies on ticket sales, publicizing information, as well as looking at the operation of railway stations and airports.
The move was announced by Lian Weiliang, deputy head of the National Development and Reform Commission, at a work conference on Thursday.
Results of the evaluation will be used to help improve transportation departments' performances during the chunyun travel period, he said.
Chinese tradition holds that people should return home and spend Spring Festival, the most important Chinese feast day, with their families. This creates an annual travel rush that is the world's largest recurrent human migration.
Spring Festival falls on Feb 19 this year.
During the travel peak in 2014, Chinese made more than 3.6 billion trips, with the majority made by road and others by rail, air and ship.
China Railway Corp, which operates the country's rail network, expects about 289 million trips to be made during the 40-day chunyun period this year, which began on Feb 4 and ends on March 16.
The Civil Aviation Administration of China has forecast that more than 47 million trips will be made by air. It has arranged for Chinese airlines to add 8,740 domestic and 3,052 international flights to cope with the increase in passengers, according to Wang Zhiqing, the administration's deputy director.
China has reported chunyun travel statistics since 1954, when about 23 million trips were made at Spring Festival. There were nearly 600 million people on the mainland that year.
The chunyun travel period has been particularly hectic since the 1980s, with reform and opening-up continuing to lure rural residents to jobs in cities.
In 1984, about 500 million trips were made during the chunyun rush, with the number rising to more than 1 billion in 1994. Since then, the number of journeys has continued to rise, reaching 2 billion in 2006 and 3 billion in 2012.
Zhou Tianyong, an economics researcher at the Party School of the Communist Party of China Central Committee, said, "The number of chunyun trips is likely to exceed 4 billion in the next few years because, with rapid urbanization and industrialization, rural residents are moving increasingly to cities."