BEIJING - As many as 3.6 billion holiday trips were made during China's "chunyun", the 40-day travel period around the Spring Festival, new official data showed Monday.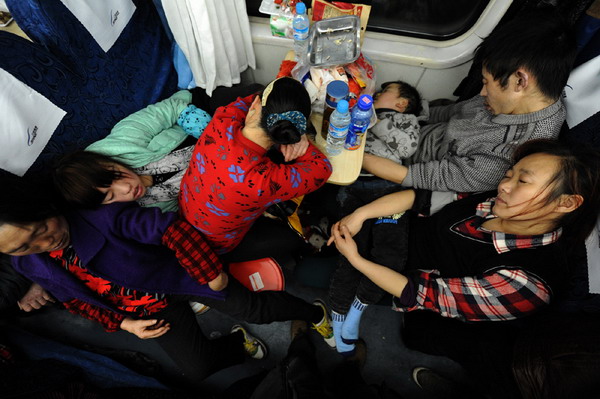 Passengers sleep on train K722 which is bound for Chengdu in Southwest China from Nanjing in East China, Jan 16, 2014. Chunyun, the 40-day travel rush period around the Chinese New Year started on Jan 16. [Photo/Xinhua]
The travel period started on January 16 this year.
About 266 million trips were made on railways, up 12 percent from a year ago. The peak fell on February 6, the last day of the Spring Festival holiday, when a record 8.36 million railway trips were made, said the Ministry of Transport.
The data showed that trips made by road, air and water stood at 3.26 billion, 44.07 million and 42 million respectively.
Feng Zhenglin, deputy minister of transport, said the country's social security department and top economic planner all contributed to a smooth travel period.