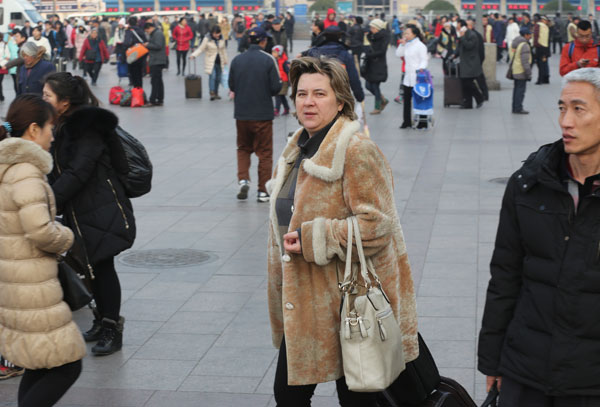 Foreigners traveling by train during the upcoming Spring Festival rush will face extra delays because they must have their IDs checked and buy their tickets at counters rather than from ticket machines. WANG JING / CHINA DAILY 
Strict ID checks, long waiting times, lack of automatic machines a turnoff at rail stations
Rail companies need to improve the service they offer to foreign travelers, an expert has said ahead of this year's Spring Festival rush.
Support services for foreigners, including ticket sales and ID checks, need to be upgraded to match China's rising status on the world stage, said Yang Hao, a professor in rail transportation management at Beijing Jiaotong University.
The difficulties involved in purchasing and picking up tickets lie in an unfriendly booking system, proving that railways are not run commercially as if in an open market, said Yang.
"The demand by foreign travelers for train tickets has grown along with the strengthening of China's economy in the world," he said, "but the railway authority has not paid sufficient attention to catering to this small group, because more than 1.8 billion passengers use the rail service each year."
China Railway Corp adopted stricter measures to verify foreign passengers' identities on March 1 last year. Foreigners must have their identities checked at ticket counters in railway stations by presenting a valid ID, such as a passport, before purchasing or collecting their tickets.
"I prefer to take high-speed trains because they are punctual, but I will not try to book train tickets because I know it's too hard to get one," said Luke Coates, a 25-year-old Australian who has lived in Beijing for four years.
Coates estimated it would cost him half a day to get a ticket, considering the long lines at booking offices and his journey to and from the rail station. The thought of doing it made him "quite exhausted", he said.
For the same reasons, Jay Wang flies when he visits Nantong, Jiangsu province, to visit his Chinese relatives during Spring Festival to save the time he would spend in railway stations.
Travel agencies that book train tickets for foreigners have also noticed a trend away from rail travel. "It always takes some time for foreign clients to pick up tickets at counters since no automatic machine allows them to get tickets or get their passports checked," said Yan Xin, a senior manager at the public affairs department of Ctrip, an online travel agency.
Professor Yang said support services such as instructions inside railway stations also need to improve. But he believes it will be a long time before foreigners can expect high-quality rail service.
However, consider the situation of foreigners with a hyphen in their names. The 12306 website, the official online rail ticket booking platform, does not allow a space or hyphen in travelers' names. A Canadian traveler, Louis-Pierre P. Lepage, was refused a ticket because the name printed on his ticket did not have a hyphen, and his passport did, Chinese media reported.