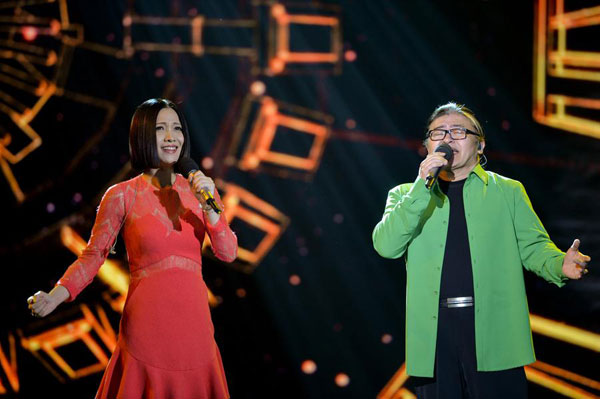 Chinese pop singer Yao Beina, left, sings a song with Liu Huan during the opening ceremony of the 10th China Golden Eagle TV Art Festival in Changsha, Hunan province, Oct 10, 2014 file photo. [Photo/Xinhua]
SHENZHEN - Chinese pop singer Yao Beina, known for singing the theme tune of TV drama "The Legend of Zhen Huan", died from breast cancer on Friday afternoon at the age of 33.
According to the Huayi Brothers Music Corp. Yao's employer, she had her left breast removed in 2011 after being diagnosed with breast cancer and was admitted to Shenzhen Hospital late last month because of cancer recurrence.
Doctors found the cancer cells had spread to her brain and lungs, said a manager with the company, adding that she decided to donate her corneas before her death.
In 2013, Yao was a contestant on "the Voice of China", singing contest and gained wide popularity.
Celebrities, netizens and fans expressed their condolences online. The webpage of search engine Baidu turns black and white if Yao's name is searched.
"The angel has gone to the heaven to sing," one internet user wrote.
Her death has brought breast cancer to the fore again, following American actress Angelina Jolie undergoing a mastectomy.
According to an article on Guokr.com, a science website, child birth at a late age, sleep deprivation and irregular medical checks are among the many factors that contribute to breast cancer.