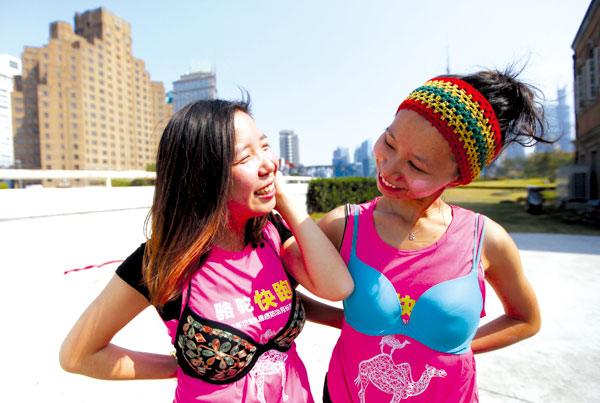 Two young women dress up to join a charity run during the Breast Cancer Awareness Month in Shanghai last October. Provided to China Daily
Longer life expectancy and lifestyle changes are being blamed for rising incidences of the illness, according to a new global study. Kelly Chung Dawson reports in New York.
China and other developing countries are experiencing a surge in breast cancer incidence and mortality, according to a new study released by GE Healthcare.
Among the factors contributing to increased rates are longer life expectancy, the use of post-menopausal hormonal therapy and lifestyle choices, including having fewer children, according to the study.
"In these regions mortality rates are compounded by the later stage at which the disease is diagnosed, as well as limited access to treatment, presenting a 'ticking time bomb' which health systems and policymakers in these countries need to work hard to defuse," says Bengt Jonsson, a professor of health economics at the Stockholm School of Economics and co-author of the report.
According to the study, 15 million years of "healthy life" were lost to breast cancer incidence or mortality in 2008. Breast cancer is currently the number one cause of cancer deaths for women worldwide.
Women in Africa, China and the United States led the countries in which women have been most affected in recent years. A lack of consumer understanding and access combined with the economic burden of treating the disease have contributed to low rates of seeking help or undergoing mammograms, GE reported.
The US still outpaces China in breast cancer diagnoses: One in eight women in the US will be diagnosed in their lifetimes; in China, one out of 40 will be diagnosed. However, the data only reflects those who enter into healthcare.
Related:
Alcohol drinking before pregnancy may increase breast cancer risk
Breast cancer to become top cancer for Chinese women
Maggie Keswick Jencks first battled breast cancer with a double mastectomy. When it returned for the third time, it had spread to her liver, bones and bone marrow. More...