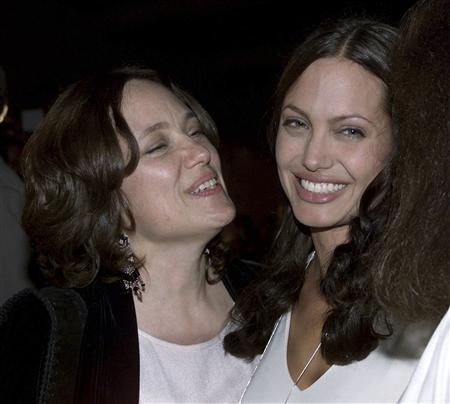 Actress Angelina Jolie (R) and her mother Marcheline Bertrand pose together at the premiere of Jolie's film "Original Sin" in Hollywood in this July 31, 2001 file photo.[Photo/Agencies]
Oscar-winning film star Angelina Jolie revealed on Tuesday that she underwent a double mastectomy after learning she had inherited a high risk of breast cancer and said she hoped her story would inspire other women fighting the life-threatening disease.
Jolie, an actress who has long embodied Hollywood glamour and has in recent years drawn nearly as much attention for her globe-trotting work on behalf of refugees as for her role as a celebrity mom, disclosed her choice in an op-ed column in the New York Times.
The 37-year-old performer, raising a family with fellow film star and fiance Brad Pitt, wrote that she went through with the operation in part to reassure her six children that she would not die young from cancer, as her own mother did at age 56.
"We often speak of 'Mommy's mommy,' and I find myself trying to explain the illness that took her away from us. They have asked if the same could happen to me," wrote Jolie.
"I have always told them not to worry, but the truth is I carry a 'faulty' gene."
The actress, who won an Oscar as best supporting actress for her 1999 role in the film "Girl, Interrupted," said she opted for the surgery after her doctors had estimated she had an 87 percent risk of breast cancer and 50 percent risk of ovarian cancer, due to an inherited genetic mutation.
"Once I knew this was my reality, I decided to be proactive and to minimize the risk as much as I could. I made a decision to have a preventive double mastectomy," she said. She said her breast cancer risk had dropped to under 5 percent as a result.
Celebrities, cancer survivors and doctors expressed admiration for her openness, saying she was an inspiration for other women.
"I commend Angelina Jolie for her courage and thoughtfulness in sharing her story today regarding her mastectomy. So brave!" tweeted singer Sheryl Crow, who was diagnosed with breast cancer in 2006.
Singer Kylie Minogue, another cancer survivor, thanked Jolie for helping women, as did television host Giuliana Rancic, who also had surgery after being diagnosed with the disease.
"Angelina Jolie reveals double mastectomy. Proud of her for using her incredible platform to educate women," Rancic said on Twitter.
Related:
Pitt, Jolie venture into winemaking