Mothers work magic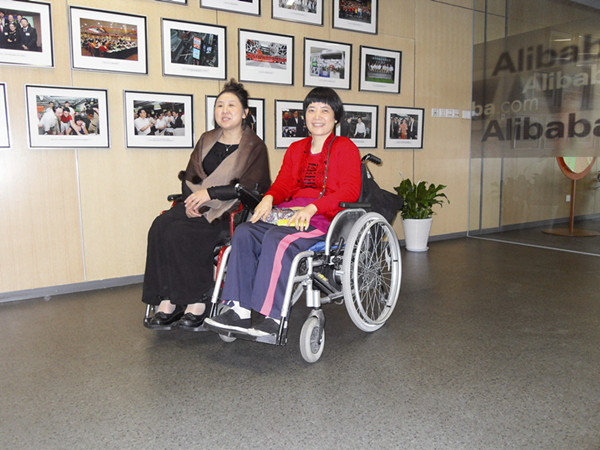 Volunteer mothers You Linbing (right) and Guo Yunxia visit the Alibaba headquarters, an e-commerce platform for small businesses. Provided to China Daily
When Zhou Lihong died in 2006 after a battle with breast cancer, a group of volunteers from across China vowed to honor her dying wish - that her online store be maintained as a legacy for her 6-year-old daughter. Wu Ni reports from Shanghai.
Seven years after Zhou Lihong passed away, the single mother's online shop is still generating profit to support her daughter.
The success of the store is thanks to a group of mothers who have voluntarily continued the late woman's work.
Zhou, a primary school teacher from Suzhou in Jiangsu province, was diagnosed with breast cancer when she was 24. As the disease took its toll, her husband abandoned the family which had been dragged into poverty by the huge medical costs.
Zhou stopped her medical treatment when the cancer was declared terminal, and decided to raise her daughter by herself.
In 2005, Zhou, who was paralyzed by the cancer, opened a store on Taobao.com, China's biggest online shopping bazaar, selling children's clothes. She named the shop after her daughter's favorite animation: Magic Bean Baby House.
As Zhou's story spread on the Web, her online shop was visited by thousands of customers, many of whom paid but did not leave the address for receiving goods to show their support.
Zhou passed away on April 18, 2006, but a group of mothers, touched by her bravery, vowed to maintain her virtual shop, as it is Zhou's wish that the shop be a legacy for her 6-year-old daughter.
"The shop would become a kind of spiritual wealth for my daughter," Zhou told media two weeks before her death, "it records days and memories of her mom".
Inspired by Zhou's story, Taobao launched a charity program to help mothers in disadvantaged circumstances start online businesses.
You Linbing, the first mother to receive the startup fund, is one of several who have volunteered to maintain Zhou's shop.
You, 47, from Hangzhou, Zhejiang province, also survived a tragedy to rebuild her life.
You used to have a promising career in a joint venture in Hangzhou. In 1997, she decided to study abroad and successfully applied to a university in Japan. But on her way to the airport, a serious traffic accident killed her husband and left her paralyzed.
To support herself and raise her son, You started her own business on Taobao.com, selling women's clothes. After she heard Zhou's story, she decided to help, and dedicated time and energy to the Magic Bean shop.
"We have a total of 15 mothers. Not everyone is always online but we look after the shop as long as we are," You says. "Each of us put the business of Magic Bean shop before our own."
The group of mothers comes from different regions of China and many of them have disabilities, are single mothers or are in difficult situations, she says.
Confined to a wheelchair, You spends about 14 hours everyday in front of a computer, dealing with customers and contacting companies about products.
"It is really exhausting. Sometimes the nonstop messages make me dizzy," she says.
Chen Xixing, one of the volunteer mothers from Shenzhen, says she was deeply touched when she visited You one summer.
"She had sores from sitting for too long but she did not give up doing any of the shop's business," says Chen.
Chen, a 55-year-old single mother, is doing online service work for the shop. When she started she did not even know how to type.
"About 90 percent of our customers buy things from the shop out of the kindness of their heart, therefore, we should offer the best service to them because it impacts the reputation of the shop," Chen says.
But business has suffered in recent years as competition in the virtual bazaar has increased. Last year, the shop earned only 2,600 yuan ($422).
This year, the volunteers shifted to selling household items that proved to be a wise decision. Last month, the shop had a turnover of more than 70,000 yuan, You says.
The money was sent to Zhou Lihong's daughter, who is now in middle school and lives with her grandparents in Suzhou.
The volunteers, who call themselves Magic Bean mothers, also occasionally visit and phone Zhou's daughter.
Zhou Yingen, the girl's grandfather, says he did not expect the shop to be maintained for such a long time.
"Every year we receive money from the mothers and we are really grateful," he says. "Their kindness always warms us."
You and the other mothers, hope that one day they can pass the shop on to Zhou's daughter.
"The shop is Zhou's last wish and attracts wide public attention so it is our responsibility to take care of it no matter how much hardship we may encounter," she says.