Mothers cry out for more nursing rooms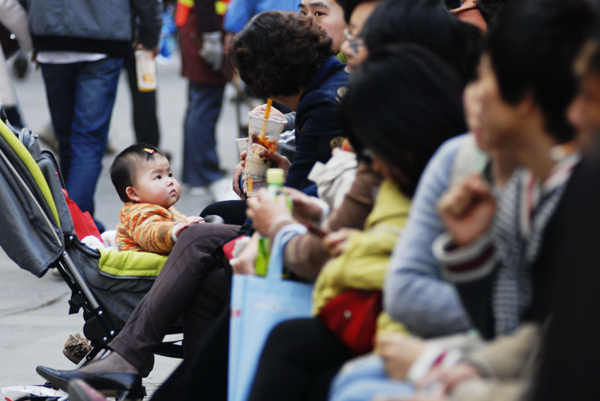 Well-equipped nursing rooms in public areas may help reduce health risks for babies. Photo provided to China Daily
While the nation celebrated Mother's Day over the weekend, many new mothers were crying out for more public nursing rooms to care for their young ones.
A nursing room is a private space for mothers to change diapers, breast-feed, express milk or take a quick rest. A good nursing room should be equipped with infant care tables, basins, chairs and washing facilities so mothers can comfortably take care of their babies.
But mothers say there are too few nursing rooms available. Many mothers have to breast-feed their babies or change diapers in public because of a lack of private rooms.
"It's really awkward for both mothers and the public, but what can a mom do with a crying baby that needs feeding?" says Huang Xia, 27, in Shanghai, who has a 19-month-old son.
Huang says her boy once "made an enormous mess" at a shopping mall. "I had to clean it quickly and change the dirty diaper. The signs in the mall indicated there was a nursing room."
She spent a long time looking for the nursing room before finally locating it in the basement - a small room furnished with nothing but a sofa.
"I just cleaned my boy, changed the diaper and then escaped the room," Huang says.
In recent years, complaints from mothers like Huang have been growing.
"You can't imagine how uncomfortable I am when strangers pass by looking at me feeding my baby," says Chen Li, a mother in Shanghai.
"I totally support breast-feeding. But in many cases, I cannot breast-feed my baby because of the absence of facilities in public areas," Chen says.
"A well-equipped, private room in a public space can ensure the health and hygiene of both the mother and the baby," she says.
Babies at 6 to 7 months are sensitive to strangers. They are quick to become restless and irritable. During this period, the care of the child should be consistent and coherent, says Ding Yanhua, a pediatrician from Children's Hospital of Fudan University in Shanghai.
"A private and clean nursing room will create a comfortable environment for both mother and child. And the health risks can also be reduced," Ding says.
According to a survey conducted by opinion poll websites Idiaoyan.com and Minyi.net.cn, during World Breast-feeding Week 2012, nearly half of breast-feeding working mothers have to express their milk in the restroom. And more than 90 percent of companies do not have a special nursing room.
On May 12, Mother's Day, a mobile vehicle equipped with baby nursing facilities was set up at Shanghai's People' Square, one of the city's most densely populated areas. The presence of the vehicle focused attention on the importance of having nursing rooms in public areas.
"Many young mothers have already recognized the benefits of breast-feeding and they choose to breast-feed their children. In this regard, more convenient support facilities should be established," says Chen Caiyu, deputy director of Shanghai Base for Scientific Child-Rearing.
Related:
Women's rights advocates in Beijing said moms should take a day off while others did the housework on Mothers' Day instead of simply buying presents for them. More...