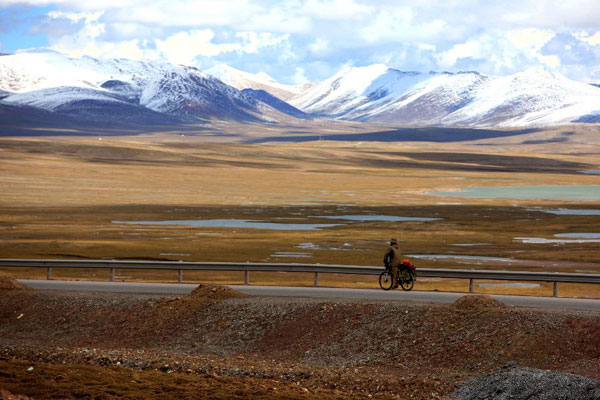 Zhou Xiansheng stops and enjoys the scenery on the Tanggula Shankou section of Qinghai-Tibet Highway on Sept 20, 2014. [Photo/Xinhua] 

Sichuan-Tibet Highway marks 60 years

A lifeline to Tibet's Medog county

Tibetan town to transform to intl tourism destination

An official reporting tour to document the lives of the people who live along the Sichuan-Tibet and the Qinghai-Tibet highways has come to an end in Lhasa, the Tibet autonomous region on Friday.
The tour group comprised of 21 reporters from 12 different Chinese news websites, followed along the highways talking and learning about the lives of the local peoples. The group included reporters from top news organizations from the Chinese mainland, including people.com.cn, xinhuanet.com, chinadaily.com.cn and news.qq.com. There was even media from companies based in the Hong Kong special administrative region such as ifeng.com.
Invited by The United Front Work Department of CPC Central Committee, 11 reporters went through a 2900 kilometer journey from Chengdu, capital of Sichuan province to Lhasa, on the Sichuan (Chengdu)-Tibet(Lhasa) Highway. The group departed on Oct 11 and arrived in Lhasa on Oct 23.
The other ten reporters departed from Xining, capital of Qinghai province on Oct 13 and arrived in Lhasa Oct 20, finishing the trip on the Qinghai(Xining)-Tibet(Lhasa) Highway.
Reporters on the two routes generated more than 300 stories covering the the construction of the roads to the livelihoods of the people in cities and towns along the route, and the effects that the overland road has brought to the local people.
This year marks the 60th anniversary of the completion and opening of Sichuan-Tibet Highway in December 1954. This year also marks the 60th anniversary of the start of the Qinghai-Tibet Highway's operation.