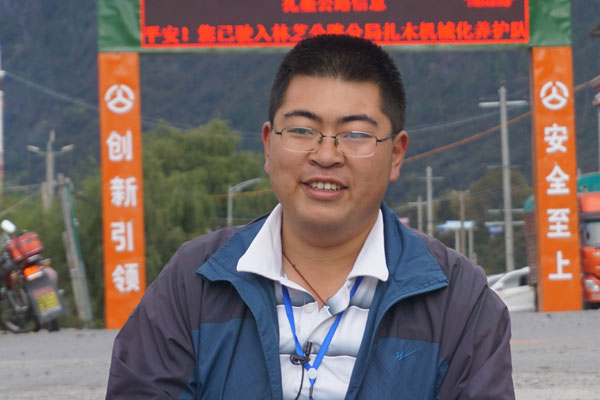 Sheng Jie, a technologist from a road maintenance team on Medog Highway, speaks On Monday about the history and current conditions of the road. [Photo by Ma Danning/chinadaily.com.cn]
Medog county, a small town in the Tibet autonomous region with a population of 11,000, was China's last county without a highway link until a vital roadway–the Medog Highway–was opened in October 2013.
Snow and rain make the mountain roads impassable for more than half the year. Before the 117-km Medog Highway, linking Medog and Bome counties was built, it took about 10 hours to walk through the mountains to travel between the counties.
The new highway has dramatically shortened the travel time.
A 161-member road crew is now responsible for maintaining the highway, including clearing the road of snow and mudslides and repairing damaged sections. The team also aids travelers in trouble.
"Our team was established at the end of 2013, and most of our workers, aged from 30 to 50, were transferred from other road maintenance teams. Our team is equipped with sufficient machines including wheel loaders and plows that enable us to finish the task," said Sheng Jie, an engineer on the team.
"The Medog Highway is currently the only way to Medog, and it relies on our efforts to keep the lifeline open. Now we are able to ensure the road is open to traffic for nine months a year, compared with previous six months," Sheng said.
According to Sheng, the Medog Highway receives rain from May to October every year, and it is easily subjected to mudslides. Medog's annual rainfall accumulation reaches 4,000 to 5,000 mm. The highway also suffers snowstorms from October to April, which cause frequent snow slides and blockages.
"Mudslides take place along the Medog Highway nearly every day from July to September. This year our team has cleaned about 100,000 square meters of mudslides and landslides," Sheng said.
"Except for climatic reasons, the highway is difficult to maintain because it has an over 2,000-meter differences in elevation. Its highest point is at an 2,700 meters in altitude while its lowest point is at 700 meters."
Additionally, the highway is located where the Eurasian Plate and the Indian Ocean Plate meet, and is subsequently subjected to frequent but minor earthquakes. The area was rated at level 9 on the Modified Mercalli intensity scale, which measures effects of an earthquake on the earth's surface from level 1 to level 12.
A road linking Mainling, Beibeng and Medog counties is expected to be completed within seven years, making it the second road linking Medog to the outside world, according to Sheng.