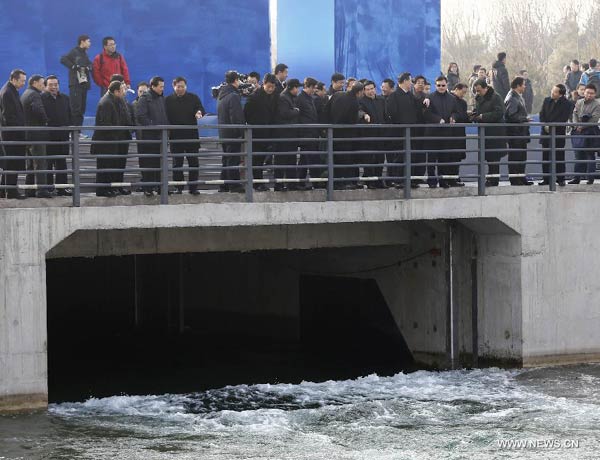 People watch the opening of a sluice gate of the middle route of the south-to-north water diversion project in Beijing, capital of China, Dec 27, 2014. [Photo/Xinhua]
BEIJING - The water from a south China river flowed into Beijing on Saturday after a journey of over 1,200 kilometers along the South-to-North Water Diversion Project.
It took 15 days for the water to arrive in Beijing from its source -- the Hanjiang River, a tributary of the Yangtze River, China's largest waterway.
Saturday's delivery marks the completion of the middle route's first stage, construction of which began exactly 12 years ago.
The project will have significant economic, social and environmental impacts, said E Jingping, chief of the State Council's South-to-North Water Diversion Project Commission Office.
Next year, about 800 million cubic meters of water will be sent to Beijing from the south.
Beijing, on average, consumes 3.6 billion cubic meters of water annually and the project will eventually deliver 1 billion cubic meters of water to Beijing. The water resource per capita in Beijing is one eightieth of the world average.
The project will alleviate the pressure Beijing faces to meet demand, said Sun Guosheng, director of the project's Beijing office, but the project would not completely solve Beijing's water issues. Additional measures must be taken.
Dean of Beijing Normal University's College of Water Sciences, Xu Xinyi, said Beijing and other places along the project's route must promote water conservation in industry, agriculture and at the municipal-administration level.
Similarly, Zhang Tong, deputy chief of the Beijing Institute of Water, urged the city to place restrictions on industries that require large quantities of water.
Beijing Mayor Wang Anshun promised citywide water conservation promotion efforts to limit wastefulness.
The middle route's first stage starts at the Danjiangkou Reservoir in the central province of Hubei.
The middle route will supply 9.5 billion cubic meters of water annually to northern regions, including the cities of Beijing and Tianjin, and provinces of Henan and Hebei.