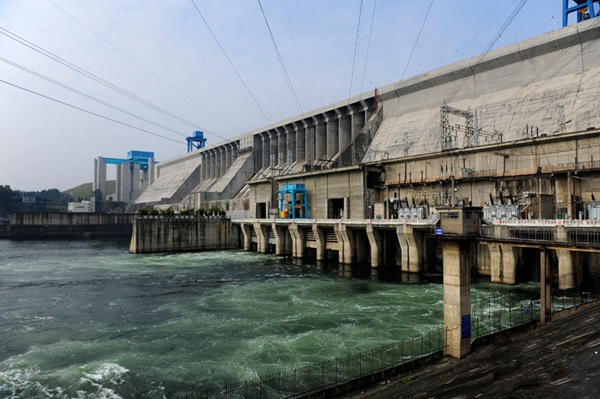 Photo taken on Nov 17, 2014 shows the heightened Danjiangkou Reservoir Dam in Central China's Hubei province, the starting point of the middle route of the south-north water diversion project which started supplying water to Beijing on Dec 12, 2014. [Photo/Xinhua]
A city in China's water-rich Hubei province that has sacrificed much for China's grand south-north water diversion project, which has begun to supply water to China's arid north, has been called "the saddest city in China" by local officials, the news website thepaper.cn reported Tuesday.
Despite its great contributions to the project, the city is still plagued with poverty. Many of its residents are moving their whole lives to make way for the project.
Over the past five decades, the city experienced two large-scale migrations. The first came in 1958 when Danjiangkou Reservoir Dams were built and the 2,000 year old city of Junzhou was totally submerged in 1967. Then, in 2009, Junxian town, a town that housed immigrants from Junzhou and named in the memory of that ancient city, had to relocate all its residents again because the dam was raised leading to higher water levels.
A city of reluctant migrants
Nearly two years ago, the entire Junxian town was relocated to a new site six kilometers away, to make way for the south-north water diversion project.
Ming Ruixiang, a 55-year-old resident, is an exception. She still lives in the original site of Junxian town due to relocation disputes.
This is far from the first time Ming faced relocation. As early as 1966, the then 7-year-old Ming moved from her hometown near Junzhou Ancient City with her parents. The migration did not end there. Without knowing the ultimate water level of the Danjiangkou Reservoir, her family has fallen into a vicious cycle of moving to a new place, being submerged by water and moving again, until they finally settled down in the original site of Junxian town. She cannot remember how many times she moved. The only certainty is that all the moves took place in the jurisdiction of one city, Danjiangkou.
Danjiangkou is the starting point of the middle route of south-north diversion project and its pride, Danjiangkou Reservoir, is the key water source of the project.
Danjiangkou city has undergone two large-scale migrations. The first migration happened when Danjiangkou Reservoir Dams started construction in 1958 and about 160,000 residents moved. In 2005, Danjiangkou Reservoir Dams rose to 176.6 meters from 162 meters, submerging new areas. The second batch of up to 100,000 migrants were relocated after 2009.
For most Danjiangkou residents, moving has become a part of life due to the water diversion project. He Shengyou, a villager, relocated as many as six times, said Chen Huaping, deputy head of the information office of Danjiangkou city government.
On Nov 18, 1967, Danjiangkou Reservoir started to store water. Though unwilling to move, the next morning He Shengyou saw his house submerged by rising water and "many snakes and rats climbed to the rooftop of his house" to escape the flood.