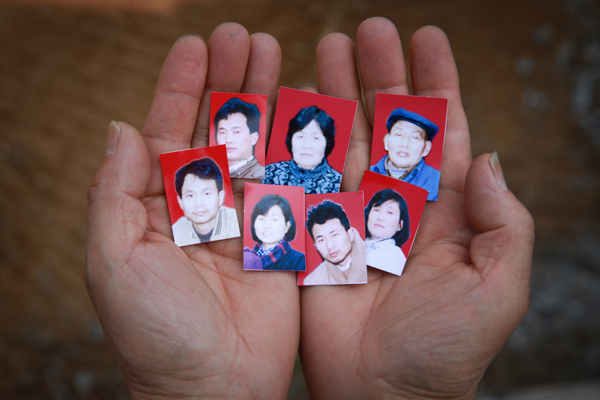 Chinese villager Zhu Chunran shows photos of his father-in-law Wang Jiayun, mother-in-law and their 3 sons and 2 daughters, who all died from arsenic poisoning, in Heshan village, Shimen county, Changde city, Central Chinas Hunan province, 3 April 2014. Arsenic poisoning caused more than 400 mine workers to die from cancer.[Photo/IC]
A map that shows the most prevalent types of cancer by province in China has gone viral on the Internet, but health experts say it is fake.
The map claims to be based on the results of a survey of 39,966 people, aged 18 to 60, in 25 provinces. It says there are 8,550 new cancer cases reported every day and that six people are diagnosed with cancer every minute.
It indicates a high incidence of breast cancer, stomach cancer and thyroid cancer in East China's Shandong province, for example.
But Chen Wanqing, deputy director of the National Central Cancer Registry and a senior cancer specialist, said China has not published a new cancer map yet, according to the Peninsula City News.
"I don't know where the source comes from. Even if it is from the annual report of registration centers, it cannot represent a whole province, since it is regional."
He also said that a project to map out cancer incidences by province has been launched in China, and that the results will be available as early as 2017.
China has more than 300 cancer registration centers, and the data recorded will be a major source to make the map, Chen said.
Ma Xuezhen, managing director of the Qingdao City Anti-Cancer Association, said the public still needs to pay close attention to the increase of cancer cases, which is related to bad eating habits.
He said the high rate of breast cancer among women in cities is due to work pressure, irregular lifestyles, late pregnancy and birth, lack of exercise, and misuse of cosmetics.