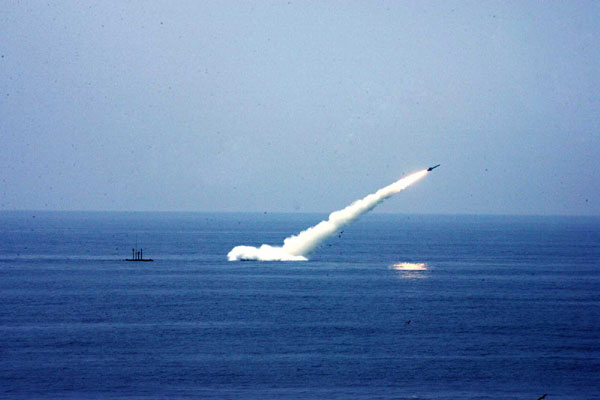 Submarine 372 fires a missile during an exercise.

GAO YI/CHINA DAILY
Mission priority
After Submarine 372 surfaced following its emergency, senior officers on board decided not to report the incident to the South Sea Fleet headquarters until the vessel completed its mission.
"At first, I was not sure whether the boat and its crew could carry on the mission because the vessel had been flooded by seawater. A lot of equipment had malfunctioned and all the men were exhausted after nearly three sleepless days of repair," Yi said.
"But the officers and sailors insisted on completing the patrol while the equipment was gradually being restored, giving us more confidence to carry out the mission."
Wang also found the submariners facing another major challenge after the emergency-dealing with foreign military ships and aircraft.
Submarine 372 was driven by one electric motor because its main engine was being repaired. It continued to maneuver underwater and took the opportunity to forge its combat capability, he said.
"The rivals were coming for us but our sailors didn't flinch ... I was thinking that, since they (foreign navies) were 'generous enough to give us a combat training opportunity for free, we shouldn't waste it," Wang said.
The submarine successfully broke through several rounds of encirclement and pursuits by foreign navies and continued its patrol in the next days before returning to base.
Presidential awards
Zhi Tianlong, president of the PLA Navy Submarine Academy, said Wang and his men's handling of the incident was exemplary.
"They succeeded in defusing such a complicated and grave emergency. Their performance was excellent and it will be written into our textbooks. The navy will promote their experience to all submarine forces," said Zhi, who has served with the navy's submarine units for more than three decades.
To further recognize the crew's courage and capability, Senior Captain Wang was given a first-class military service citation by President Xi Jinping, who is also chairman of the Central Military Commission, in September, while the PLA navy gave the crew a first-class merit citation, which is rare in peacetime.
Admiral Wu Shengli, commander of the PLA navy, said at the award ceremony that the Submarine 372 crew's feat will inspire all its servicemen to honor their duties and build a strong navy.
The flotilla organizes long-distance patrols every year, and these operations will continue to expand in distance and duration, with submarines continuing to explore new depths, Wang said.
"We value every experience we get in our operations. Crew members are required to review and learn from their performance and missions, so that they can constantly improve," he said.
Vessel steering chief Zhao Manxing said every submariner in his flotilla aspires to adventure and honor.
"Fighting windstorms and billows is what a man should do in his youth, so I joined the submarine fleet," he said.
"We don't believe in fear and hardship."