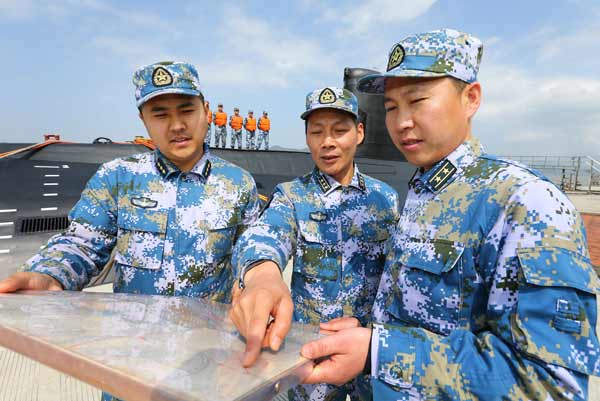 Submarine captain Hua Ming (center) discusses with fellow soldiers before a military mission. Photos by Ju Zhenhua / For China Daily
A Chinese submarine captain finds his life's work below the waves, Yan Yiqi learns in Ningbo, Zhejiang province.
To regular people, the idea of a submarine might be of a fantastic journey with Captain Nemo at the helm, as described by French writer Jules Verne in his book Twenty Thousand Leagues under the Sea. But for Hua Ming, a submarine represents the responsibility of guarding the country and also a lifelong love.
"In the first 18 years of my life, the ocean had nothing to do with me," says Hua, who has served in China's submarine unit for 23 years. "But from the day I joined the navy in 1991, my whole life was mixed into the ocean."
During his six years as a submarine captain, Hua has completed dozens of important military missions covering a total cruising distance of more than 100,000 nautical miles.
"It is my honor to battle for my country and my people. We should always be well-prepared," he says.
The 41-year-old is not a man of many words when speaking about his personal achievements, but on topics related to submarines and battle tactics, Hua becomes very talkative.
He can recognize every type of anti- submarine craft owned by major countries in the world. He can name every reconnaissance satellite that is working in the skies, or about to be launched. Soryu-class submarine of Japan, Sindurakshak submarine of India, Kursk of Russia - their performances and accidents are all in his mind.
Hua's profound and thorough knowledge in his own field helps him to complete difficult tasks.