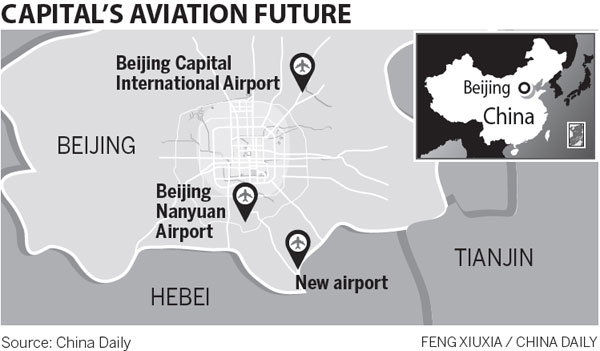 Transport hub will be able to handle 72 million passengers a year
The central government has approved the construction plan for a new international airport in Beijing that will enable the capital to handle 72 million more passengers each year.
The project will involve investment of almost 80 billion yuan ($13.1 billion) and take about five years to complete, the National Development and Reform Commission said.
It will be located 46 kilometers south of Tian'anmen Square in Daxing district, and is expected to become operational in 2018.
The airport is designed to handle 2 million metric tons of cargo and 620,000 passenger flights on an annual basis, the commission said. It will include 150 parking aprons for passenger jets, 24 parking aprons for cargo aircraft, 14 maintenance areas as well as a terminal building with a floor area of 700,000 square meters.
State-owned Capital Airports Holding, the Northern China Regional Air Traffic Management Bureau under the Civil Aviation Administration of China and the China National Aviation Fuel Group will undertake the construction.
The civil aviation administration will provide 18 billion yuan to fund the project, while Capital Airports Holding will invest 6 billion yuan. The rest of the investment will come from bank loans and private capital, according to the commission.
The new airport will serve the rising demand for air transport in Beijing, boost the balanced development of the capital city's northern and southern areas, and strengthen China's competitiveness in the civil aviation sector, it added.
A 66-km rapid transit line will be built to link the city's northern areas to the new airport. Passengers will spend less than 30 minutes getting to the city center from the airport.
"The new airport will become a pillar of Beijing's efforts to form a modern service sector," said Lian Yuming, dean of the Beijing-based International Institute for Urban Development. "It can substantially buoy the development of the city's southern areas that lack growth momentum."
Currently, Beijing has two airports that serve civil aviation flights - Beijing Capital International Airport and Beijing Nanyuan Airport.
Beijing Capital International Airport, located in northeastern Beijing, served 83.7 million passengers in 2013 and was listed as the second-busiest airport in the world last year by passengers, behind Hartsfield-Jackson Atlanta International Airport in the United States, according to Airports Council International.
Cao Yunchun, an economics professor at the Civil Aviation University of China, said the new airport will share the heavy burden carried by Beijing Capital International Airport and help reduce the serious flight delays that passengers often complain about during the summer.
The nation's thriving economy and a growing middle class have been fueling a travel boom in the world's second-largest economy. By the end of November, 100 million outbound trips had been made by mainland citizens, according to the China National Tourism Administration.