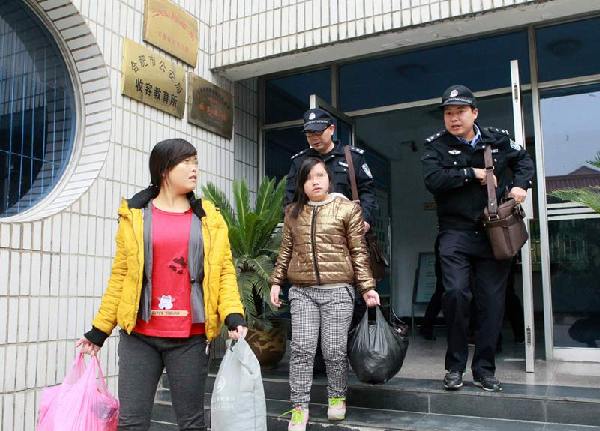 Lou and Giang leave Hefei, Anhui province, on November 20, 2014, with police officials from Kunming, Yunan Province, where they will take a bus to go to Hekou port. [Photo/CFP]

Police in Handan, Hebei province, are investigating the disappearance of more than 100 Vietnamese women who married local bachelors, and had been living in local villages. They vanished at the end of November 
Yuan Xinqiang, 22, from Quzhou county, married a Vietnamese woman in September after being introduced to her by Wu Meiyu, a Vietnam bride who has been living in another village in the county for about 20 years.
Since the beginning of this year, Wu had been saying she could introduce young Vietnamese women to local bachelors. If they liked each other, the man would pay Wu an amount of money based on his and the woman's ages, and then they could marry.
Yuan paid 105,000 yuan ($17,000).
"If both are young, it would be expensive. If the woman is older, it costs less," Yuan said.
"Since Wu had been in the village for a long time and has a 6-year-old grandson, I didn't expect she would cheat me out of money," Yuan said, adding that the bride was gentle and quiet and had won his trust.
Wu has disappeared, together with all the brides she introduced. Her only remaining family member is her father-in-law, who said Wu had gone abroad to arrange residency permits for the Vietnamese brides so they could settle in China, said a villager surnamed Ding, who paid 115,000 yuan to marry a Vietnamese woman.
A public servant of Handan, who declined to be named, said there might be an organized ring that helped all the brides leave en masse.
"With the advanced communication techniques of today, it's easy for all the brides to leave at the same time," he said.
The official said buying brides has developed into a local tradition in rural areas such as Guantao and Wei counties.
China's stringent family planning policy, which has resulted in more male births due to a traditional preference for sons, is causing a widening gender gap, he said, adding that as the gap widens, the cost of a Chinese bride moves beyond the budget of local farmers.
A villager surnamed Xu, of Guangping county, said it's customary for a man to offer 110,000 yuan in cash and a car worth at least 40,000 yuan as betrothal gift.
A groom is also required to own a house. So the cost of marrying a Chinese woman could reach as much as 400,000 yuan.
"Since most bachelors cannot afford to marry a local woman, they take Vietnamese brides," Xu said.
The public security bureau of Handan said international matchmaking services and cross-border marriage brokerages are illegal, and the case may be related to human trafficking.
Sun Li contributed to this story.