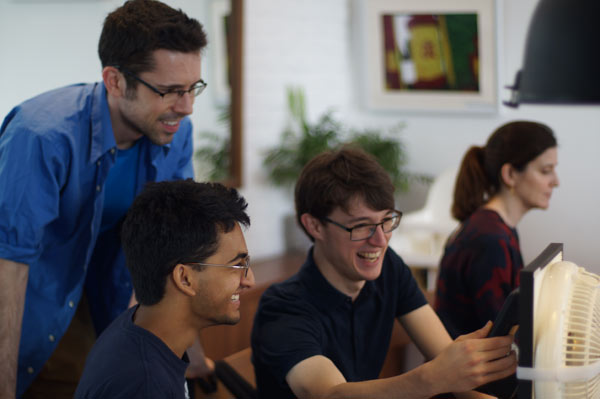 A Smart Air DIY workshop in Ricci Café, Wudaokou, Beijing on May 31 2014. [Photo by James Le / Provided to China Daily]
To test the effectiveness of his home-made purifier, he got a particle counter and did experiments to measure how much pollution it removed from his bedroom. He posted the results, as well as instructions to make a DIY purifier, on a blog, particlecounting.tumblr.com.
As his blog started getting more hits, Talhelm added experiments comparing his DIY to expensive purifiers on the market. The DIY performed very well, with his larger 'Canon' model out-performing even the 8000-yuan IQ Air. His impartial, scientific way of presenting data earned him fans.
"When I was writing up my findings to put them on a blog, some friends told me not to do it. They said, 'Don't give it away! Use it to make money.' I thought about that, but if I just use this to charge people high prices, aren't I just doing the same thing as the big companies? I thought: if I don't make a dime, and the only thing I accomplish is convincing people to avoid giving all their money to these big companies, I'll be happy," said Talhelm, who is completing his Psychology PhD in the United States.
Talhelm founded Smart Air in September 2013 to sell DIY kits at 200 yuan for the original model and 450 yuan for the larger 'Canon', so that his readers could build purifiers with trusted source materials. The social enterprise has sold nearly 8,000 kits so far and continues to educate people through workshops, a Taobao store and its website, www.smartairfilters.com.
Orders for the kits come from all over China, and the Smart Air team continues to conduct experiments and collect data to answer customers' questions, such as how often HEPA filters need to be changed or how noise levels of the DIYs compare with the high-end brands.
With sales of air purifiers reaching 3.5 billion yuan in China in 2013, according to Daxue Consulting and reported by The Guardian, Smart Air provides Chinese city dwellers with an alternative to costly machines without compromising results. More than 40% of 2013 air purifier sales were made in November and December, when pollution levels skyrocketed, so Smart Air expects demand to surge in the coming months. Talhelm is also in talks with engineers to build a purifier that doesn't require assembly.
"My biggest goal is to provide simple, affordable purifiers for people in China and other countries with air pollution problems," says Talhelm. His social enterprise continues with this mission.