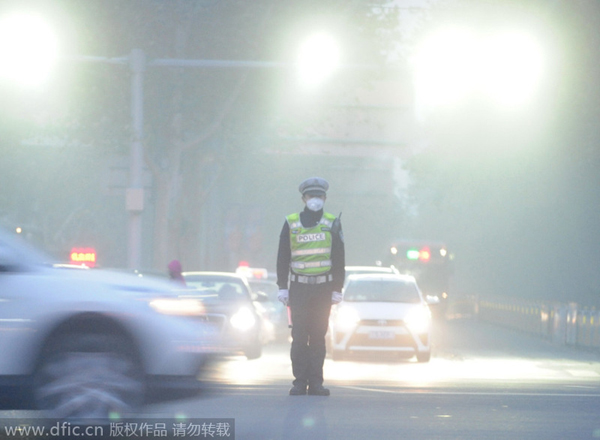 A traffic policeman stands on duty while wearing a mask to protect himself from smog in Jinan, capital of Shandong province, Nov 25. [Photo/IC]
BEIJING -- Thick smog is expected to shroud parts of north China over the next two days, the National Meteorological Center (NMC) said Tuesday.
The NMC forecast that Beijing, Tianjin and Hebei, Henan, Shanxi and Shandong provinces will be hit by light to moderate smog, with some areas experiencing severe smog from Tuesday to Wednesday.
Heavy smog and fog will blanket the central and southern parts of north China, northern part of Huanghuai area and eastern part of the Sichuan Basin with visibility in some areas less than 500 meters, according to the NMC.
A cold front will sweep these areas from north to south starting Wednesday night and it is expected to disperse the smog and fog.
The weather observatory warned drivers of low visibility and advised people to stay indoors.