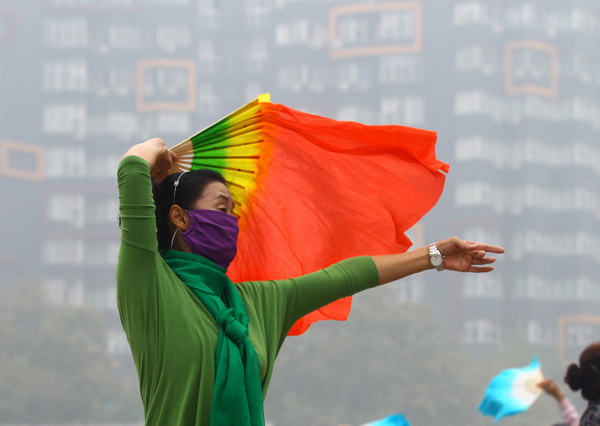 A woman dances in a square despite thick smog in Zhengzhou, Henan province on October 9, 2014.[Photo/CFP]
An online letter blaming a mayor for not doing enough to stop air pollution went viral in China and garnered a response from the official on Sunday.
The letter was written and published by Li Guofa, a 59-year-old from Zhengzhou, central China's Henan province, to city mayor Ma Yi.
Li said clean air is a luxury for people in the city and criticized government attempts to improve its quality.
"Maybe you can't hear their voices, but they actually blame and scold you for this every day," Li said. "The government should follow people's wishes to control air pollution even at the cost of less GDP and revenue. This may not make your term achievements dazzling, but what's more important than citizens' health and safety?"
Ma replied to Li's letter, thanking him for his attention to the city's development and said his government would seriously consider his "constructive" suggestions and requests over air pollution.
Li told Beijing News he did not expect the letter to cause such a sensation online. He said since he had no chance to meet and talk to the mayor, he wrote the letter in the hope of drawing the government's attention to the issue.
He added the mayor's reply is a positive act, but what he really hopes to see is the government take action.
The sincere but strong words used in the letter boosted its online popularity, especially among those whose cities are also plagued by smog.
The news was a hot topic on China's social media Weibo on Monday and more than 10,000 comments about the report were posted at Souhu.com.
The majority expressed support for Li's decision to write the letter and agreed with his opinion that the government's actions speak louder than words.
"We hope the mayor's response was not merely made under public pressure," said a comment. "The letter is a reminder to all government officials that they need to listen to the public's opinion in making decisions," said another.
But there were also those who questioned whether all of Li's recommendations represent public opinion. "Li suggested that Zhengzhou launch an odd-even license plate system to ease air pollution. I don't think this would be accepted by most drivers," one commented.