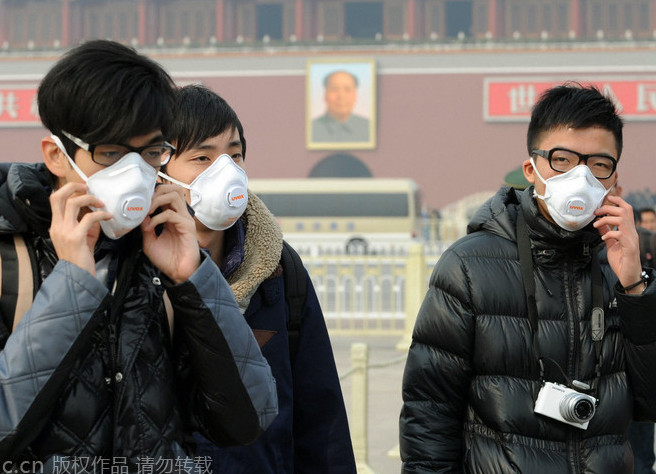 Tourists visit the Tiananmen Square wearing masks amid a smoggy day, Mar 27, 2014.[Photo/IC]
An official of China's meteorological authority said on Friday that graduates and talents in meteorological fields focusing on smog-led environmental issues are in great demand across the country, Xinhua news agency reported.
Yu Yubin, deputy head of the Personnel Department of the China Meteorological Administration, made the comments at a special meteorological job fair held in Nanjing, East China's Jiangsu province.
At the job fair, 165 meteorological departments across the country offered 1,788 posts to college graduates.
Last year, China Meteorological Administration released the "Plan of talent development of meteorological department (2013-2020)," to build a nation-wide meteorological talent system.
"Smog has an enormous impact on society and people's lives," said Wang Yan, an official with the Shanghai Meteorological Bureau. "We need more professional talents in the areas of weather forecasting and air pollution control."
Three forecast and warning centers on environment and meteorology in the Beijing-Tianjin-Hebei region, the Yangtze River Delta and Pearl River Delta, which are among the worst-hit regions by smog, also kicked off their first round of recruitment since they were established.
Only nine of 161 Chinese major cities reached the air quality monitoring standards in the first half of this year, according to China's Ministry of Environmental Protection.
In February 2012, China issued a new air quality monitoring standard which includes the monitoring of ozone, carbon monoxide and PM2.5, plus that of PM10, sulfur dioxide and nitrogen dioxide.