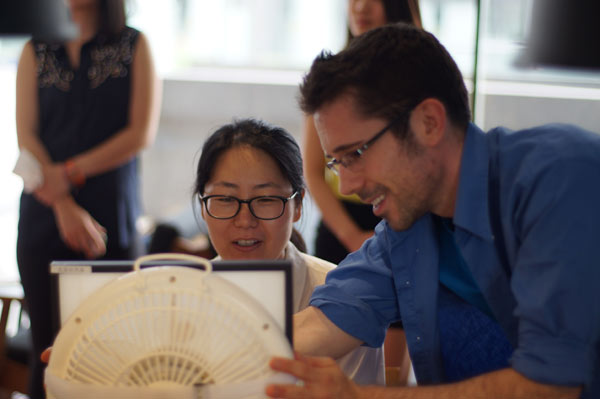 Smart Air founder Thomas Talhelm helps a participant assemble her air purifier in Ricci Café, Wudaokou, Beijing on May 31 2014. [Photo by James Le / Provided to China Daily]
In the battle against air pollution in China's cities, one Beijing social enterprise is bringing affordable clean air to the masses by teaching people how to make their own air purifiers.
At a Smart Air workshop in Beijing, 25 people from all walks of life pry off the grates of ordinary fans and strap filters to them with Velcro straps. They are assembling Do-It-Yourself air purifiers from a simple kit provided by the social enterprise for just 230 yuan ($37) each, compared with thousands of yuan for a brand-name purifier.
Since August 2013, Smart Air has been holding such workshops in over 10 Chinese cities, including Beijing, Shanghai, Hong Kong and Nanjing. What began as one man's quest to beat air pollution has become a movement to help people breathe easier with a few simple tools and empirical research.
During Beijing's "airpocalypse" of January 2013, when pollution levels were a record 30 to 45 times above recommended safety levels, American Fulbright scholar Thomas Talhelm prepared to hand over 8,000 yuan ($1,294) for an IQ Air purifier. Shocked by the hefty price, he decided to do some research and discovered he could build his own for a fraction of the price.
"I found out they're actually very simple. To remove particulates [the kind of pollution faced by Chinese city dwellers], you basically just use a fan to push air through a HEPA filter. So why not just put a HEPA filter on a fan?" said Talhelm. As defined by the Institute of Environmental Sciences and Technology in the US, a HEPA filter must capture a minimum of 99.97 percent of contaminants at 0.3 microns in size.
So he bought a fan and a HEPA filter online and strapped them together. It cost him just 166 yuan.