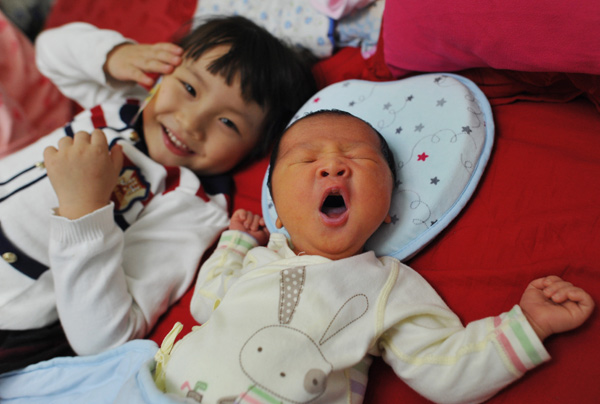 A girl plays with her newborn brother at a hospital in Nanjing, Jiangsu province,on Oct 24. 2014. [Photo/CFP]
The high cost of raising children forces the majority of couples eligible applying for permission to have a second child abandon their plan, a survey by the China Youth Daily found.
Of 2,052 people responding to the study, 75.1 percent said they would not apply for a permit, according to the newspaper on Thursday.
When asked the reason, 58.1 percent said they cannot afford to raise a second child.
A woman surnamed Jia in Xi'an, Shaanxi province said raising her only child already costs her and her husband 4,000 yuan ($650) a month – almost half their combined salaries. Having a second child would be too heavy a burden to bear, she said.
China amended its one-child policy in December allowing couples to have a second baby if either parent is an only child.
The National Health and Family Planning Commission said earlier this month that only 700,000 of 11 million eligible couples have filed applications, falling short of expectations.
Professor Shi Renbing, head of the Population Research Institute with China's Huazhong University of Science & Technology, said it is possible China could further relax the one-child policy if the country's fertility rate remains unchanged in the next two years.