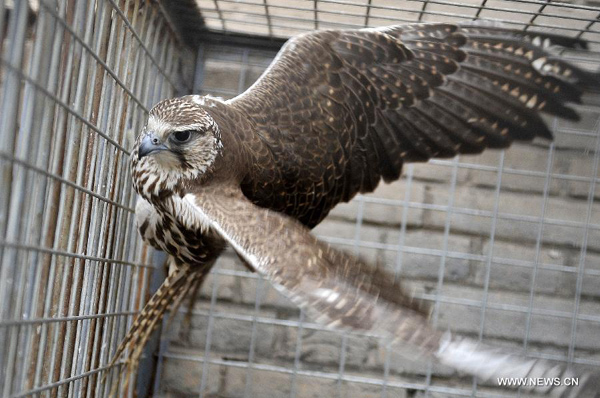 Photo taken on Nov 26, 2014 shows a trafficked falcon in a cage for protection at Zhongshan Park in Yinchuan, capital of Northwest China's Ningxia Hui autonomous region. Local police of Ningxia recently uncovered a case of illegal purchasing, transporting and trafficking 24 rare animals, 17 of which are under China's second-class protection, including larks, hawks, and falcons. An event of releasing these trafficked animals was held here on Wednesday. [Photo/Xinhua]
China has become the largest market for illegal wildlife trading with a huge number of related animal products being sold online, according to a new report by a major animal welfare group.
At least 18,590 animal products were for sale online in the country at the beginning of 2014, the International Fund for Animal Welfare reported on Tuesday. Of the 21 online marketplaces monitored in China, wildlife products valued at $2.7 million were available for sale from March 10 to April 18.
The products mainly involved elephant and rhinoceros ivory, turtles, tortoises and exotic birds, the nonprofit group said. The ivory trade dominated all the sales in the country, with nearly 79 percent of them made up of ivory products.
Worldwide, IFAW's investigators found 33,006 endangered wildlife and related products for sale on 280 online marketplaces in 16 countries early this year.
"The shocking scale of online wildlife trade shows that the Internet poses a real threat to wildlife," said Tania McCrea-Steele, who leads the IFAW Global Internet Wildlife Trade Team.
In China, the number of illegal wildlife products sold online increased from 544 items in 2008 to 2,061 this year, but that did not mean the situation is worsening because the investigations this year were broader in scope and more comprehensive, IFAW China program officer Wang Juan said. Only four websites were monitored in 2008 compared with the 21 tracked this year, Wang said.
"Most websites monitored in 2008 have seen a significant decrease in trade, but we also see a new trend in China for wildlife trading using online forums and social media platforms," Wang said.
Wang said the report focused on the online trade information, but didn't monitor the sources of the wildlife products.
China was the leading country in the online trade of wild animals, followed by Russia, Ukraine, France, Germany and the UK, according to the IFAW report.
The report listed popular online forum Baidu Tieba, mobile text and voice messaging service WeChat, and instant messaging platform QQ as the main channels for the illegal wildlife trade. These pose challenges for law enforcement authorities and regulators.
Of the 2,106 transactions recorded in the latest study, 1,355 buyers left their QQ or WeChat usernames as a form of contact, the welfare group reported.
"The Internet provides a covert and fast way to cover up the illegal trade," Wang said.
Law enforcement agencies should strengthen supervision on social media channels like QQ and WeChat and make public the results of any crackdown to raise awareness of the crimes being committed.
The fight against the illegal wildlife trade has been listed in the work agenda of law enforcement, but obstacles remain in eradicating the criminal activity, partly because the online channels make it more difficult to trace violators, an official with the State Forestry Administration said.
The forestry agency declined to comment on the IFAW report.
In October, nine well-known Internet companies, including Alibaba, Tencent and Sina, vowed to exclude advertisements or activities involving the illegal wildlife trade and its related products on their platforms.
China joined the Convention on International Trade in Endangered Species of Wild Flora and Fauna in 1981. The multilateral treaty aims to protect endangered plants and animals.
Zhang Jianlong, deputy director of the State Forestry Administration, said China will continue to cooperate with other countries to strengthen wildlife protection and fulfill its international obligations.
In January, China played a leading role in a multinational operation that seized 36 rhino horns, more than 3 metric tons of ivory and more than 10,000 turtles from illegal traders.