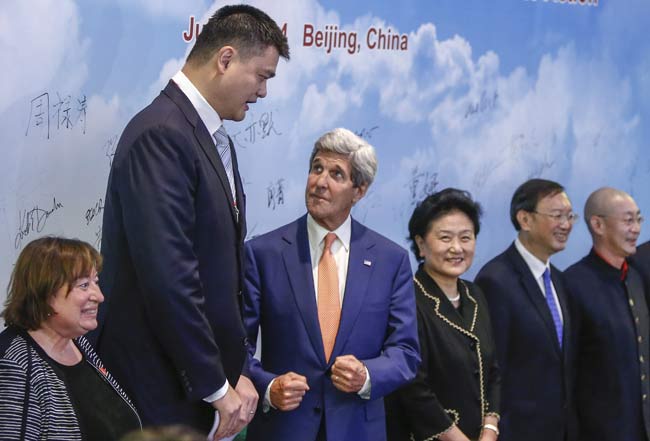 US Secretary of State John Kerry looks up at former NBA player Yao Ming in company with Chinese Vice-Premier Liu Yandong (at Kerry's left) and other dignitaries attending a discussion on Wednesday about combating wildlife trafficking. ZHANG HAO / CHINA NEWS SERVICE

China and the United States will enhance their cooperation in combating wildlife traffickers by strengthening law enforcement and increasing public awareness, leaders of the two nations said at the China-US Strategic and Economic Dialogue on Wednesday in Beijing.
Vice-Premier Liu Yandong said during the forum that it is a common aspiration of the international community to protect wildlife.
In recent years, the body parts of wild animals have become the world's third largest commodity for smuggling, after drugs and firearms.
China and the US should undertake more initiatives to strengthen domestic law enforcement and international cooperation, and provide support to the international community in forming a "network of wildlife law enforcement" to reduce the demand and supply of illegal wildlife products, Liu said.
According to Liu, since 1988, when China released its Law on the Protection of Wildlife, the country has been working to build a comprehensive legal system to strengthen conservation and combat illegal trafficking.
China and the US led the first cross-continent wildlifeenforcement effort, known as Operation Cobra, early last year.
US Secretary of State John Kerry said the two nations should stand together and send a powerful message to stop poachers and eliminate the profit motive associated with trafficking.
Public-private cooperation is also encouraged, said Zhang Yimo, manager of strategic development for WWF China.
"Protecting wildlife is not only a work for governments but also the responsibility of everyone," he said.
Chinese basketball star Yao Ming and actor Liu Xiao Ling Tong, known for his portrayal of the Monkey King in the 1986 television series Journey to the West, also attended the forum, using their celebrity status to raise awareness of animal conservation.
"We will strive to create a harmonious co-habitat of humans and animals, turning our concerns into actions," Yao said.
yangyao@chinadaily.com.cn