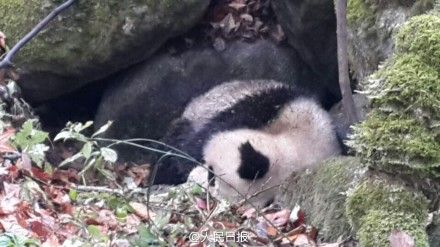 An injured panda is found injured at Tangjiahe National Nature Reserve, Southwest China's Sichuan province. [Photo/people.com.cn] 
A three-year-old panda was found seriously injured earlier on Monday at Tangjiahe National Nature Reserve in Sichuan province in what appeared to be an attack by martens, China News Service reported.
The panda was found at a moor stone cave near a conservation station with its belly badly injured and intestines exposed. Workers at the station said it was likely attacked by martens at the reserve.
Local veterinarians and medical teams rushed to operate on the panda, shortly after it was spotted. The doctor said in the afternoon that the panda is now out of danger after receiving more than 100 stitches to sew up the wounds.

The panda is an endangered species that lives in a few mountain ranges in central China, mainly in Sichuan province.