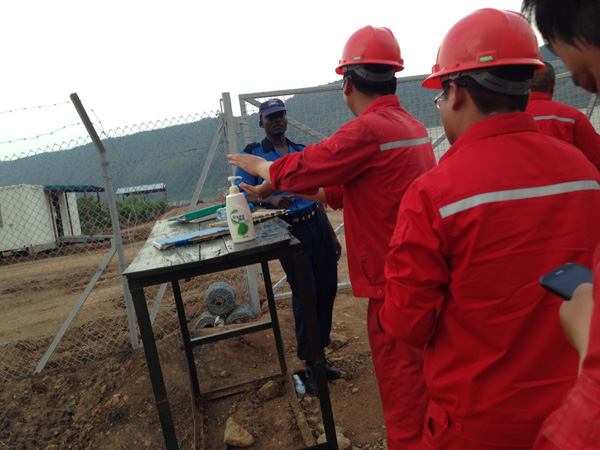 Workers disinfect their hands at an oil drilling branch of Sinopec in Uganda in August to prevent Ebola infections.  Provided to China Daily
No big greeting hugs, no animals from the bush, practice good hygiene - Chinese companies in Africa are on high alert for the deadly Ebola virus and are taking strict precautions to protect employees from infection.
Sinopec has established an emergency Ebola response team, handing out brochures on disease prevention to employees in Africa.
"No employee so far has been affected, and our operation in Africa is not affected," said Yang Zhitao, a publicity officer at Zhongyuan Petroleum Engineering, a subsidiary of Sinopec.
Among the recommended precautions are washing hands and clothes with sterilizers.
"Our employees used to follow local customs and hug each other when dealing with local people," he said. "But now we suggest they avoid intimate contact and greeting by shaking hands to reduce the risk of infection."
Sinopec's branch in Ghana has invited local health experts to provide prevention training for its employees. It also requires any employee who displays Ebola symptoms such as fever or coughing to be quarantined and the case reported to the company.
In Mauritania, employees from Sinopec Geophysical, a branch of Sinopec, are forbidden to play with or raise wild animals. They have been asked to bathe and change their clothing more frequently, according to Sinopec.
In mid-August, all the company's 8,869 employees in Africa were safe from Ebola, it said.
Ebola has killed more than 4,000 people in West Africa this year. The WHO said on Tuesday that there could be up to 10,000 new Ebola cases weekly in Guinea, Liberia and Sierra Leone by the end of the year.
The UN health body suggested four requirements to stop Ebola: identifying and tracking contacts, managing cases, ensuring safe burials and giving people information to protect themselves.
Anthony Banbury, special representative of the United Nations secretary-general and head of the UN Mission for Ebola Emergency Response, urged swifter, more-unified actions, particularly at the community level, as "time is the biggest enemy" in fighting the virus.
Chen Rongzheng, an overseas division director of Anhui Construction Engineering Group, said they have projects in several African countries, and operations in Sierra Leone have been suspended due to the epidemic.
"Previously we had more than 10 workers there and they were all called back to China in early September because of the serious Ebola epidemic there," he said.
"We are still looking for someone local to help guard the construction site there, and we will resume the project there when the epidemic is over," he added.
The company now has dozens of Chinese workers there, and "we are on high alert for the virus and are ready to leave when the situation gets worse," he said.
Jiang Longyu, of the information office of China Tiesiju Civil Engineering Group, said they have their own hospital in Ethiopia, which can not only take care of company workers but help with local epidemic control and treatment in case of infections.
Zhu Lixin and Du Juan contributed to the story.
Contact the writers at shanjuan@chinadaily.com.cn and wangxiaodong@chinadaily.com.cn