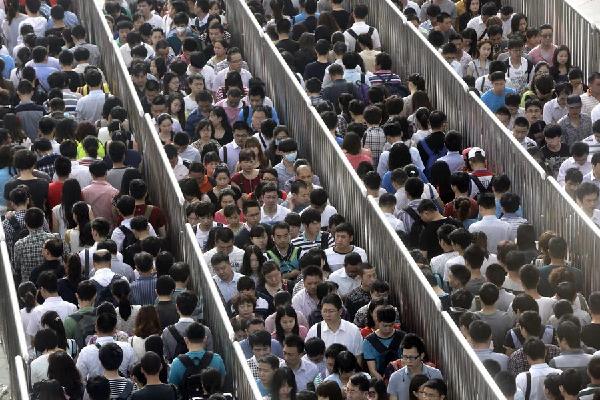 Passengers line up and wait for a security check during morning rush hour at Tiantongyuan North Station in Beijing May 27, 2014. [Photo/Agencies]
Passengers are likely to pay twice as much as they used to for subways in Beijing, according to two fare adjustment plans released on Monday.
According to the plans, the initial price for taking the subway will be either 2 yuan (32 cents) or 3 yuan, and the price will increase according to the distance a passenger travels, Beijing Evening News reported.
The average ticket price will be 4.3 yuan under the plan that has an initial price of 2 yuan. The average price for the plan with a 3 yuan starting point will be 4.4 yuan. Public opinion will be solicited on the plans and a public hearing held before the authorities decide which to adopt.
According to both plans, frequent commuters can enjoy discounts ranging from 20 percent to 50 percent, depending on the monthly amount they spend on the subway, Beijing News reported.
The plans have attracted much attention and netizens have posted many comments about them on the Internet. While some commenters complained, many expressed acceptance of a price increase.
"I have been used to the 2-yuan price for a ticket, and the sudden rise makes me feel uncomfortable," wrote a netizen using the name Maimingyinxing. "Luckily the increase is not much and the price is still lower than other cities such as Shanghai and Guangzhou."
The Beijing municipal government issued a notice last year suggesting a rise in the subway ticket price to increase efficiency and relieve the burden on subways caused by excessive passenger flows. The subway ticket price in Beijing has remained 2 yuan per person per trip since 2007 regardless of distance. The municipal government sought to encourage the use of public transport and ease traffic congestion on the road by retaining the low price.
By the end of last year, the network of Beijing's subways reached 465 kilometers, according to the Beijing Municipal Commission of Transport, making it one of the world's longest.
Another 13 subway lines are under construction and will add 208 kilometers to the total length of the subway network.
More than 10 million commuters use the subway every day, making it very crowded during peak hours, which brings potential danger, according to some experts.
The Beijing government also provides huge subsidies for operation of the subway every year to make up for a deficiency in ticket revenue. It provided 20 billion yuan in subsidies to public transport last year, including subways and buses, according to media reports.