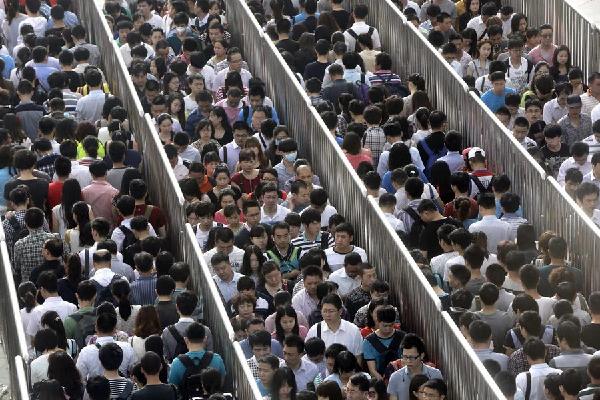 Passengers line up and wait for a security check during morning rush hour at Tiantongyuan North Station in Beijing May 27, 2014. [Photo/Agencies]
BEIJING - Beijing will end an era of flat rate subway fares as authorities discuss plans to implement a metered option for public transportation.
The Beijing Municipal Development and Reform Commission has released a basic outline which says in the future ticket fares will be based on distance or stop numbers.
Currently, the city still adopts a flat rate subway fare with unlimited transfers. A single-ride ticket costs two yuan (32 US cents), which is believed nowhere near operation costs.
Owed to swelling population and huge losses by the public transport system, the government has been considering a raise after gathering public opinion on fare pricing in July.
But the commission said the new price will not surpass that of other first-tier cities in the country.
Discounts will be given to daily commuters and preferential policies will be given to elders, students, disabled passengers and soldiers. In addition, the Beijing municipal government will continue to invest in and subsidize the public transport system.
The number of passengers taking subways hit 3.2 billion last year, an increase of 350 percent from 2007. Subsidies also jumped from 13.5 billion yuan in 2010 to 20 billion yuan in 2013.
The city has changed the bus and subway ticket prices four times since China's reform and opening up in 1978.
The latest was seven years ago when Beijing reduced bus tickets to as low as four jiao (six US cents) and two yuan for subway tickets.
A public hearing will be held later, the commission said.